BACK IN THE BADGER STATE: CARSON MACEDO HAS A CLEAN NIGHT OF RACING IN THE BADGER 40 TO BRING HOME A SIXTH PLACE FINISH AT WILMOT RACEWAY IN THE HIGH PERFORMANCE LUBRICANTS #41 MAXIM
WILMOT, WISCONSIN (July 10, 2021) – Philip Dietz and the JJR #41 sprint car team trucked Mesilla Valley Transportation (MVT) style back to America's Dairyland to race in the Badger 40 at Wilmot Speedway on Saturday night. The busy month of July for the World of Outlaws NOS Energy Drink Sprint Car Series competitors and teams continues as they keep it going here in Wisconsin followed by five straight nights of racing in Ohio. The action in the Buckeye State starts Tuesday night at Attica Raceway Park with the Brad Doty Classic then moves on to Eldora Speedway for four straight nights at the Kings Royal with a lot of money on the line for the drivers and teams. Carson Macedo and the JJR #41 sprint car team are focused and looking to keep their momentum moving forward with five straight top five finishes, in which three of the five have been runner-up finishes, with continued opportunities for success just ahead. On this night, there were 26 teams registered and parked in the pit area for the evening of action at Wilmot Raceway.
Looking to get the night started off on a strong note, after a brief rain delay, Carson would be the very last car to push off in Slick Woody's Qualifying for his two laps at speed around the semi-banked, 1/3-mile dirt track aboard the Team Jack Foundation/Jansen Transportation/High Performance Lubricants #41 Maxim. He was buckled into his Crow Enterprizes safety belts and ready to rip. Current series point leader and 2-time WoO champion Brad Sweet established the one-lap track record at Wilmot back on July 13, 2019, with a lap of 12.563 seconds. After Jake Blackhurst completed his time trial laps, the Lemoore, California native fired his Kistler Engines power plant and pounded the gas pedal as he darted towards the green flag to put down his best lap. He was hustling through the turns and stopped the clock the first time around in 13.185 seconds. He was far from done as he was hammer down as he searched to find a little bit more speed the next time around. His efforts yielded a better lap at 13.022 seconds. The quicker of his two laps was 11th quick overall for the night. Current WoO's point leader, Brad Sweet, was the fastest driver in time trials turning in a lap of 12.791 seconds.
Next on the evening's competition agenda were the three Drydene Heat Races where the top two finishers in each get an opportunity to race in the dash for their starting position in the feature, with the next four lock into the feature at the end of the night. The lineups were posted as Philip, Clyde, and Nate were hard at work turning wrenches and tending to their driver's speed chariot in preparation for heat race action. Carson would get started aboard the Walker Performance Filtration/Sam I Am/Mr. Jim's Racing #41 in the second heat race from the outside of row two Wayne Johnson sharing the row with him. Jason Sides and Scotty Theil made up row one with David Gravel and Blake Nimes in row three, as Josh Schneiderman, Danny Schlafer, and Jereme Schroeder complete the starting lineup. When the field came to the starting line in their side-by-side it was Theil to the lead over Sides as Macedo wheeled to the bottom to take the show position. Wayne Johnson fought back underneath Macedo to retake that position on lap two, but Macedo was tenacious and kept the pressure on to regain the spot. He would not relinquish it as he continued to pursue Theil and Sides throughout the 10-lap race. Wayne Johnson and David Gravel were in a fierce battle for the fourth position. Theil took the win by 3.752 seconds over Sides and Macedo, with Gravel sneaking under Johnson exiting turn four on the last lap to secure the fourth position with Johnson and Nimee locking down the final two transfer spots.
Missing out by one position to advance onto the DirtVision Fast Pass Dash, the JJR #41 team went to work on their Maxim Racing machine and then waited patiently for the horns to sound for the running of the 40-lap Badger 40 NOS Energy Drink feature where they would start eighth. With threatening weather all around, WoO and track officials kept the show moving briskly so the wait was not a long one. Carson climbed into his high speed office ready to get to work in the Durst Inc./Smith Titanium/Winters Performance Products #41. Logan Schuchart and Brad Sweet were in row one, Sheldon Haudenschild and Aaron Reutzel in row two, Scotty Theil and Jason Sides in row three, with Donny Schatz joining Carson Macedo in row four. When they went green flag racing the action on the moist track was fast and furious. Schuchart drove into the lead over Sweet, with Macedo losing one spot and running in ninth. The action would be short-lived though as the yellow flag came after for James McFadden, Kraig Kinser, and Carson Short who were tangled together. When they restarted the action was no less exciting, but also brief when David Gravel got upside down over in turns three and four after getting up over the cushion in the Big Game Motorsports #2. He was fine and the crew did a tremendous job making all the necessary repairs in the work area for him to push back off and rejoin the field. They tried again to no avail to get another lap in but failed as the red came back out, this time for Jeremy Schultz who flipped and collected Marcus Dumesny and Russell Borland. Track officials called an open red so the teams could service their entries and top off the fuel. When they went back to green it was Schuchart again showing the way with Sweet not too far behind. Carson was able to move up a few spots and eventually worked his way up to sixth on lap 7 which he held. With 17 laps to go, Brad Sweet tracked down Logan Schuchart in traffic and stole the lead. Macedo was marching forward too as he moved into the top five with 15 laps to go. The extended green flag racing was interrupted with 13 laps to go when a caution flag was displayed for Sheldon Haudenschild who had a flat right rear tire. That moved Carson into fourth with a rambling herd of competitors behind him at the restart where Reutzel got by to take over the fifth position. With 10 laps to go, the red flag was gain displayed for David Gravel who made contact with the inside tractor tires and flipped to end his night. Macedo would restart sixth behind Sweet, Schuchart, Schatz, Reutzel and McFadden. Sweet led the way, but Schuchart was not going away and made it close at the finish line as the top two were followed by Schatz, McFadden and Reutzel with Macedo bringing the JJR #41 with a solid sixth place finish. A good run for the forty-one! The team now will head to Ohio to try and earn their share of the treasures with five straight nights of racing.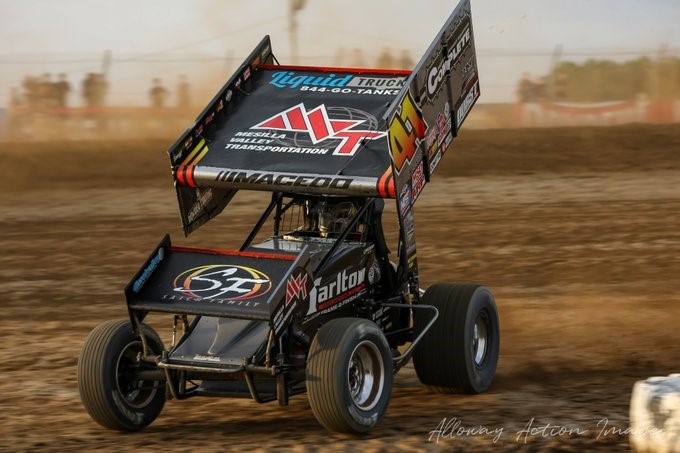 A Sixth Place Finish at the Badger 40 for Carson Macedo and the JJR #41 Team!
Mesilla Valley Transportation (MVT); Tarlton and Son Inc.; Complete Parts & Equipment Solutions; Saich Family; Border International; Dissolvalloy Downhole Revolution; Jonestown KOA; Durst Inc.; Maxim Racing; The Boyd Family; Liquid Trucking; Meyers Constructors Inc.; Tiger Towing; Pro Powder Coating (PPC); Waco Metal; High Performance Lubricants, LLC; Kistler Engines; Team Jack Foundation; Mark Burch Motorsports; All Pro Auto Reconditioning; K1 Race Gear; AutoMeter; Bandy & Associates Accountancy Corporation; Bell Racing USA; Blackbeard LTD; BR Motorsports; Brown & Miller Racing Solutions (BMRS); Buckwalter Trucking, LLC; C&R Racing; Chalk Stix Torsion Bars; Crow Enterprizes; Engler Machine & Tool, Inc.; Factory Kahne (FK Shocks); Fibreworks Composites; FK Rod Ends; Fuel Safe Racing Cells; Greber Racing Components; Hoosier Racing Tire; ISC Racers Tape; Jansen Transportation; KSE Racing Products; Larry Davis Farms; Logo Daddy Graphics; Mr. Jim's Racing; MSD Performance; RaceDiecast.com; Sam I Am; Schoenfeld Headers; Smith Titanium; T-FAB Custom Metal Fabrication; Vortex Racing Products; Walker Performance Filtration; Weld Wheels; Wilwood Racing; and Winters Performance Products.
To stay connected with Jason Johnson Racing (JJR), go to www.jasonjohnsonracing.com.
To stay up-to-date with Carson Macedo and his success journey on and off the track, as well as to purchase his gear and merchandise directly, visit www.carsonmacedoracing.com.