BACK AT IT NEAR BRUTUS: CARSON MACEDO TAKES ON THE TECHNICAL SURFACE AT WEEDSPORT IN THE EMPIRE STATE CHALLENGE FINALE AND BRINGS HOME A 12TH PLACE FINISH TO END THE SUMMER SWING THROUGH THE EAST COAST
WEEDSPORT, NEW YORK (July 31, 2022) – After a busy month of July, with 14 scheduled races that started in back on the first of the month in Wisconsin and proceeded to traveled through Iowa, Ohio and Pennsylvania, the final race of the month would take place at Weedsport Speedway, located in New York, before the teams loaded up the show and headed back to the Midwest for an event filled August. Weedsport, originally known as the "Weed's Basin", is located in the town of Brutus and was a port on the Erie Canal. After the dust settled following the opening evening of action on Saturday night where Carson Macedo brought home a sixth place finish, Philip Dietz and the JJR #41 team did maintenance and prepared their speed machine during the day for the last night of racing in the Empire State Challenge. There were again 29 teams unloaded and parked throughout the grassy pit area off turn four on this beautiful Sunday evening as the crews were busy readying their equipment for some high speed competition.
The Albaugh – Your Alternative/Dissolvalloy Downhole Revolution/Motor State Distributing #41 Maxim would be the 27th car out in My Place Hotels Qualifying. The late Greg Hodnett established the quickest lap here back on May 17, 2015 at 13.401 seconds. While not an easy target to attain, this is the mark everyone would be shooting for when the drivers pushed off for their two laps in time trials. Carson climbed into the cockpit of his Maxim Racing chassis and buckled tightly into his Crow Enterprizes safety belts. Nestled comfortably and safely into his Fibreworks Composites custom fitted seat, the Lemoore, California wheelman rolled into the staging lane off turn four. He flipped the shield down on his beautifully prepared Shifty Illusions custom painted Bell Racing Helmet ready to get his elbows up. His Kistler Engines power was singing at full song as he rolled by the waving green flag to start the clock on lap one. He went out late in the order but was movin' and groovin' as he made his way around the 3/8-mile D-shaped oval and when he raced under the white flag his effort the first time around was clocked at 14.548 seconds. Unrelenting, he stayed on the loud pedal searching for every single last ounce of traction and speed. Unfortunately he did not find any as his second lap was recorded at 14.615 seconds. The better of his two circuits placed him 16th overall on the speed charts. Donny Schatz, who laid down a lap in hot laps that was under the track record, set quick time on the last night of the Empire State Challenge with an impressive sub-14 second lap at 13.555 seconds.
With the heat race lineups being established off of each driver's best time trial lap for the three 8-lap heat races, Carson found himself on the outside of row three in the first and fastest heat race aboard the Durst Inc./Winters Performance Products/Vortex Racing Products #41. He shared the third row with Chris Hile. Fast qualifier Donny Schatz was on the pole with local racer Danny Varin to his outside. Noah Gass and Logan Schuchart were in row two. Kraig Kinser and David Franek paced from row four. Austin Bishop and Bill Rose made up row five and were ready to go. When the front row starters hit the chalk stripe in turn four it was Donny Schatz, the 10-time World of Outlaws champion, tussling for the lead with Danny Varin who was rim riding on the outside. Schatz led Varin with Logan Schuchart taking third from Noah Gass. Carson Macedo drove the Albaugh – Your Alternative #41 underneath local racer Chris Hile to take command of the fifth position. He then started to reel in Noah Gass. He tried the high side. He tried the middle on entry. He tried the low side, finally making it work on the exit of turn two to move into fourth with 3 laps to go. Donny Schatz took the heat race win over Varin and Schuchart with Carson Macedo bringing the JJR #41 home fourth. Noah Gass and Chris Hile secured the final two transfer positions from heat one.
Missing out on an opportunity to get back out on the track in the DIRTVision Fast Pass Dash, Carson worked closely with Philip Dietz, Nate Repetz and Braden Saich who was helping out as Clyde Knipp was at home celebrating his new baby girl, Briella Jo Knipp, who was born on Thursday. With a beautiful sunset in the western New York sky, the air horn sounded summoning the 25 teams, Bill Rose took a provisional, who earned a spot in the 30-lap NOS Energy Drink Empire State Challenge feature finale to the track. The fans were ready and so were the drivers. It was time to go racing at Weedsport Speedway! Carson Macedo would get the Mesilla Valley Transportation (MVT)/Border International/RaceDiecast.com #41 Maxim started from the outside of row five for the feature. Carson would share the fifth row with last night's winner David Gravel. Donny Schatz and Brock Zearfoss earned their starting spots in row one followed by James McFadden, Larry Wight, Jacob Allen and Danny Varin in the first three rows. Logan Schuchart and Brad Sweet paced from row four with Gravel and Macedo on their tail tanks. The green flag dropped over the starting field with Donny Schatz hustling into the lead in the Tony Stewart Racing (TSR) #15 over Zearfoss and Wight. Carson went back to work and wheeled the Albaugh #41 from the tenth position, but it was tight and all out chaos behind him. On lap 4, Carson got passed by both Spencer Bayston and Paulie Colagiovanni putting him back to the 12th position. Meanwhile, Donny Schatz was dealing with Brock Zearfoss at the front as the two were racing nose-to-tail. Carson was battling inside the cockpit of the forty-one and on lap 9 passed Colagiovanni back to take over the 11th spot in the running order. Five laps later though Colagiovanni returned the favor relegating Carson back to 12th place. This place is the great equalizer, but also produces some great action. Macedo now had Sheldon Haudenschild to deal with as the talented racer from Wooster, Ohio was on a mission. He got by the Lemoore, California native wheeling the Tarlton and Son/Complete Parts & Equipment Solutions #41 now running in the 13th position. Schatz would not be denied as he led from green to the checkers taking the win over a forward dominant and KSE Hard Charger Award winner for the night David Gravel with Logan Schuchart coming home third to complete the podium positions. Brock Zearfoss and James McFadden rounded out the top five. Carson Macedo raced hard and ultimately came home with a 12th place finish in the Empire State Challenge finale.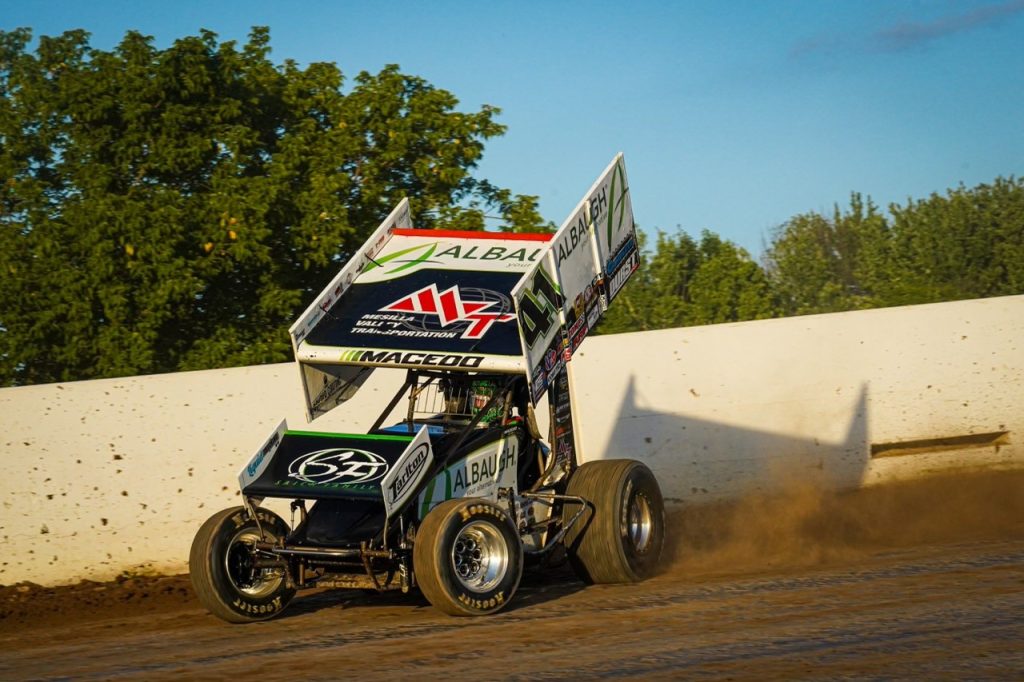 Carson Macedo Wheels the Albaugh #41 to a 12th Place Finish in the Empire State Challenge Finale! Photo Credit: Cameron Saich
Albaugh, LLC; Border International; Mesilla Valley Transportation (MVT); Saich Family; Tarlton and Son Inc.; Boltz Family; Complete Parts & Equipment Solutions; Durst Inc.; Liquid Trucking; Bandy & Associates Accountancy Corporation; Buckwalter Trucking, LLC; Dissolvalloy Downhole Revolution; Jansen Transportation; Larry Davis Farms; Meyers Constructors Inc.; Mr. Jim's Racing; RaceDiecast.com; Sam I Am; Team Jack Foundation; Mark Burch Motorsports; T-FAB Custom Metal Fabrication; Tiger Towing; All Pro Aluminum Cylinder Heads; AutoMeter; Bell Helmets; BMRS (Brown & Miller Racing Solutions); BR Motorsports; C&R Racing; Crow Enterprizes; Engler Machine & Tool, Inc.; Factory Kahne (FK Shocks); Fibreworks Composites; FK Rod Ends; Greber Racing Components; High Performance Lubricants, LLC; Hoosier Racing Tire; Indy Performance Composites (IPC); ISC Racers Tape; K1 Race Gear; Kistler Racing Engines; KSE Racing Products; Maxim Racing; Motor State Distributing; Premium Coach Group; Pro Powder Coating (PPC); Saldana Racing Products; Schoenfeld Headers; Smith Titanium; Vortex Racing Products; Walker Performance Filtration; Weld Racing; Wilwood Racing; Winters Performance Products; and Xtreme Body and Paint.
To stay connected with Jason Johnson Racing (JJR), go to www.jasonjohnsonracing.com.
To stay up-to-date with Carson Macedo and his success journey on and off the track, as well as to purchase his gear and merchandise directly, visit www.carsonmacedoracing.com.