ABRUPT STOP IN WISCONSIN: CARSON MACEDO'S CHARGE FORWARD TUMBLES AWAY AFTER A LATE RACE ACCIDENT RESULTING IN A 22ND PLACE FINISH IN THE FINALE OF THE INDEPENDENCE DAY SPECTACULAR
NEW RICHMOND, WISCONSIN (July 2, 2022) – After bring home a fifth place finish on the opening night of the Independence Day Spectacular at Cedar Lake Speedway, Carson Macedo and the JJR team were back in the pit area with the always clean and nicely presented Albaugh – Your Alternative #41. They were ready to go racing at Cedar Lake Speedway. The track was founded by Elmer Cook back in 1957 and every year he tried to improve the facility to make it what it is today. He did a good job. It is a beautiful, well run facility that houses a 3/8-mile dirt oval that produces some of the best racing in the country. In what has become a tradition to celebrate July 4th weekend each year, the World of Outlaws NOS Energy Drink Sprint Car series and stars schedule their visit to New Richmond, Wisconsin for the two-day Independence Day Spectacular. On Saturday night there were again 27 teams parked throughout the pit area ready to entertain the fans in the stands before the huge fireworks show burst in the skies after the show.
Carson was eager to get off to a quick start in My Place Hotels Qualifying aboard the Durst/FK Rod Ends/Sam I Am/Mr. Jim's Racing #41 Maxim. Two laps. One driver. Nine hundred plus horsepower. Thousandths of seconds measured. He would have to exercise his patience as he would be the very last driver for his time trial laps. A bump on Carson's rear nerf bar indicated it was his turn to race against the clock. Snug in his Crow Enterprizes safety belts, he dropped his right foot and built up his momentum as he headed towards the waving green flag. He was cruising looking to lay down his best lap. When he completed the first circuit around Cedar Lake in 12.167 seconds, the clock had already begun to measure lap two. He stayed focused on his marks and this time around turned the qualifying lap in 12.252 seconds. The better of his two attempts only netted him 18th quick overall when the engines silenced after the final qualifier. At the top of the speed charts on this night was current point leader and the 3-time defending World of Outlaws champion Brad Sweet who went our 22nd and clocked the fastest lap at 11.707 seconds.
Carson's qualifying effort put him deep in the starting lineup for the third 8-lap heat race where he would start on the outside of row three with Scott Bogucki to his inside, but he was prepared to do his part. Brock Zearfoss and Christopher Thram made up row one with both Shark Racing entries, Logan Schuchart and Jacob Allen, in row two with Kraig Kinser, Hunter Custer, and Ryan Bowers filling out the starting lineup. When the field got up to speed it was Brock Zearfoss to the lead over Thram. Carson quickly moved the Tarlton and Son/Liquid Trucking/Greber Racing Components (GRC) #41 Maxim into the fifth position and began trying to chase down fourth running Jacob Allen. The Lemoore, California native stayed up on the wheel as Zearfoss showed the way with the white flag flying. Brock Zearfoss took home the win with Logan Schuchart coming home second, Jacob Allen passed Christopher Thram for third, with Carson Macedo crossing the finish line fifth ahead of Scott Bogucki.
With all of the qualifying in the books, the 24 car field was set for the 35-lap Independence Day Spectacular Feature event at Cedar Lake Speedway. Philip, Clyde, and Nate were going about their business getting the Mesilla Valley Transportation (MVT)/Meyers Constructors/Tiger Towing #41 Maxim ready for their driver to compete. Carson would get started pretty far back in the field as he would begin from the 15th starting position with Kasey Kahne to his outside. Giovanni Scelzi and Brad Sweet would show the field the way to the green flag from the front row. When the smoke from the pyrotechnics subsided the green lights illuminated and Scelzi drove the KPC #18 into the top spot with Sweet tracking him from second. With 5 laps down, it was Scelzi as your leader but Carson Macedo was doing his thing as he was just one spot out of the top ten aboard the Albaugh – Your Alternative #41. Scelzi though was dealing with Sweet who took the lead on lap 7. Macedo continued his workmanlike effort and on lap ten moved into the top ten running in the 9th position. Sweet was setting a rapid pace at the front as the full field was running at full song. Things started to get interesting though on lap 18 when Scelzi brought out the yellow as he hit the wall after shredding his right rear tire. Under yellow flag conditions third and fourth running David Gravel and Logan Schuchart were also forced to head to the work area with tire issues. Carson would restart from the eighth position when the green flag again waved. He had made great forward progress, but wasn't done yet driving up to the seventh position. Following another yellow flag Sweet chose the outside lane with Brock Zearfoss to his inside. When they got restarted it was Zearfoss to the led aboard the Moose's LZ Bar & Grill #3z over Sweet. Carson was in an all-out battle for position in his forty-one entry when on lap 24 his forward progressed tumbled away as he made contact with a competitor and flipped hard down the backstretch. The damage to the JJR #41 was too extensive to make repairs ending his strong run forward as he was scored with a 22nd place finish. Brock Zearfoss led the field back to green flag conditions and led the remaining laps to collect his second World of Outlaws win, his first as a series regular, over David Gravel who rejoined the field and raced through the pack for a second place finish followed by Brad Sweet and Logan Schuchart with Jacob Allen rounding out the top five. While it certainly was a tough night for Carson Macedo and the forty-one team, a big shout out and congratulations to Brock Zearfoss and the Moose's LZ crew and family on the win!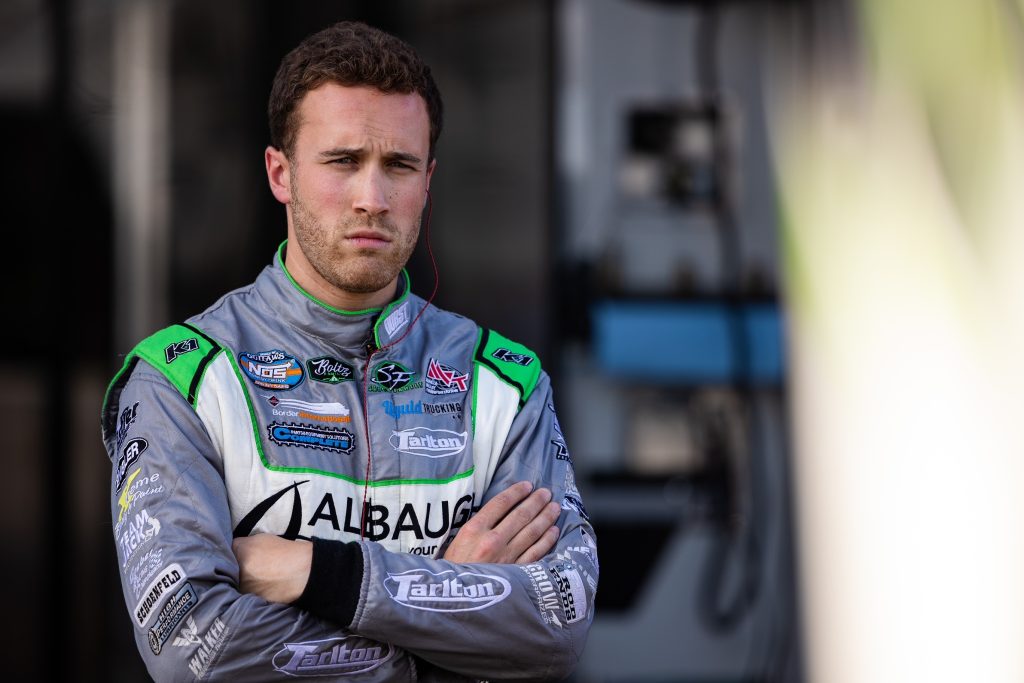 A Strong Effort in the Finale at Cedar Lake Tumbles Away After a Late Race Accident! Photo Credit: Trent Gower
Albaugh, LLC; Border International; Mesilla Valley Transportation (MVT); Saich Family; Tarlton and Son Inc.; Boltz Family; Complete Parts & Equipment Solutions; Durst Inc.; Liquid Trucking; Bandy & Associates Accountancy Corporation; Buckwalter Trucking, LLC; Dissolvalloy Downhole Revolution; Jansen Transportation; Larry Davis Farms; Meyers Constructors Inc.; Mr. Jim's Racing; RaceDiecast.com; Sam I Am; Team Jack Foundation; Mark Burch Motorsports; T-FAB Custom Metal Fabrication; Tiger Towing; All Pro Aluminum Cylinder Heads; AutoMeter; Bell Helmets; BMRS (Brown & Miller Racing Solutions); BR Motorsports; C&R Racing; Crow Enterprizes; Engler Machine & Tool, Inc.; Factory Kahne (FK Shocks); Fibreworks Composites; FK Rod Ends; Greber Racing Components; High Performance Lubricants, LLC; Hoosier Racing Tire; Indy Performance Composites (IPC); ISC Racers Tape; K1 Race Gear; Kistler Racing Engines; KSE Racing Products; Maxim Racing; Motor State Distributing; Pro Powder Coating (PPC); Saldana Racing Products; Schoenfeld Headers; Smith Titanium; Vortex Racing Products; Walker Performance Filtration; Weld Racing; Wilwood Racing; Winters Performance Products; and Xtreme Body and Paint.
To stay connected with Jason Johnson Racing (JJR), go to www.jasonjohnsonracing.com.
To stay up-to-date with Carson Macedo and his success journey on and off the track, as well as to purchase his gear and merchandise directly, visit www.carsonmacedoracing.com.