A TALE OF TWO DAYS AT KNOXVILLE: AFTER A STRONG POINTS BUILDING START TO THE PRELIMINARY NIGHT, MACEDO ENCOUNTERS ISSUES AND CRASHES HARD AFTER THE CLOCK TURNED THE DAY OVER TO FRIDAY THE 13TH
KNOXVILLE, IOWA (August 12, 2021) – With the first set of drivers from Wednesday night already having some work behind them, the Thursday night qualifiers patiently waited for their turn on Thursday night. The goal is to score as many points as possible every time the driver's car hits the track. A late afternoon heavy rain shower delayed the start on the second night of preliminary action at the 60th Annual NOS Energy Drink Knoxville Nationals. Carson Macedo and his JJR #41 team were excited to get going in the beautiful "Golden Opportunity" edition of the Jason Johnson Racing entry. There were 48 drivers locked in and ready to go in the pit area.
After drawing the '40' pill, Carson Macedo would be the 25 driver out on the black clay surface for his two time trial laps. There were 200 points up for grabs for the quick timer with two less for each position down line based on your final qualifying position. The Kistler Engine power came to life under the hood of the Tarlton and Son/Mesilla Valley Transportation (MVT)/Complete Parts & Equipment Solutions #41. He built up his speed down the backstretch and headed towards the green flag. He passed the waving green flag and the clock began to move and measure his performance. He was focused and running his line and stopped the clock at 15.193 seconds after his first lap. He stayed hard into the accelerator and the next time by ran a consistent, but slightly slower lap at 15.201 seconds. The better of his two laps ended the qualifying session seventh quick overall. Kasey Kahne, driving the Roth Motorsports #83, set quick time with a lap of 15.142 seconds. Carson earned 188 points for his time trial effort.
The five 10-lap Drydene Heat Races lineups were posted. With an inversion of eight, the fastest guys had some work to do if they wanted to earn one of the four transfer positions into the feature event. Because of the rain early, the track was narrow and passing would come at a premium. The pressure was on, but these athletes are prepared and like to compete. Carson Macedo would get the Albaugh – Your Alternative/Jonestown KOA/Dissolvalloy Downhole Revolution #41 started from the inside of row four with Tyler Courtney to his outside. Jeff Swindell and Sawyer Phillips were in row one. Parker Price-Miller and Scotty Thiel were in row two. Matt Juhl and Cale Thomas were positioned in row three. With Bobby Mincer and Tim Kaeding rounding out the starting grid in row five. When the green flag waved, Jeff Swindell led the field to the green and led lap one. Carson moved into the sixth position with Scotty Thiel holding the last transfer position with Tyler Courtney right behind and pressuring him for the coveted position in the running order. On lap two, Macedo made a bold move and passed them both off turn two to take over the fourth position. The battle was far from over as Courtney was digging and staying within striking distance. Swindell was leading when the red came out on lap 5 for Cale Thomas who experienced mechanical issues sending him hard into the inside guide rail on the frontstretch ending his night. When they restarted, Tyler Courtney roared by Macedo and now owned the fourth position. Swindell was out front with Sawyer Phillips running second, Parker Price-Miller third, Courtney fourth, and Macedo fifth. Time was running out for Macedo. With one lap to go an issue arose for the leader slowing him and allowing the field to catch him. Macedo took advantage of the misfortune and made the pass on Swindell around the outside in turn two. Sawyer Phillips from Pleasantville, Iowa took the win over Parker Price-Miller and Tyler Courtney with Carson Macedo coming home in the fourth and final transfer spot. Carson earned an additional 91 points bringing his cumulative total to 279 points.
The field was set for the 25-lap Wolfe Eye Clinic Preliminary Night feature at Knoxville Raceway. It was getting late as the calendar flipped to Friday, August 13th a few hours before. The top eight point earners who advanced into the feature through their heats would be inverted with the highest point drover starting eighth. Sam Hafertepe and Sye Lynch paced from row one at the front of the field. Paul McMahan and Brian Brown were in row two. Brent Marks and Carson Macedo shared row three. Brad Sweet and Tyler Courtney sat in row four. With the iPhone lights waving as the field rolled around in their four-wide salute to the fans, it was time to go racing at Knoxville Raceway at the Knoxville Nationals! The initial green flag was quickly called off as race officials said Carson McCarl started too early. During the caution, Shane Stewart headed to the work area with mechanical issues that ended his night early. When they tried to get going the next time, 12th starting Parker Price-Miller flipped wildly in turn one to bring out the red flag before a lap could be completed. After the wreckage was cleared, they attempted to start this race again. They did and were only able to get one lap in before a vicious accident occurred in turn three involving Macedo, McMahan, Kerry Madsen, Sammy Swindell and Marcus Dumesny. The speeds are tremendous at this place and coming off of turn two Macedo had a run on McMahan for the fifth position. Macedo dove low entering turn three as the two drivers made contact. Macedo was on the brakes, hit the inside berm and spun up across the track flipping with McMahan. Macedo flipped down the track and was hit by Sawyer Phillip and when he came to rest Kerry Madsen, who had nowhere to go, clobbered the forty-one again sending him flipping wildly and Macedo flipping again. McMahan's car caught on fire and was quickly extinguished. All drivers were ok, but the carnage left behind damaged a lot of equipment and dreams all at one time. Carson's night was done as he was scored 20th and earned an additional 162 points bringing his nightly total to 441 points. That's important because that total locks him into the front row of Saturday night's B-Main where he will get started from second with the top four transferring. A rough and tough night for Carson and the forty-one team, along with the others involved, but grateful everyone was ok. Brian Brown won the race over Kyle Larson and Brent Marks.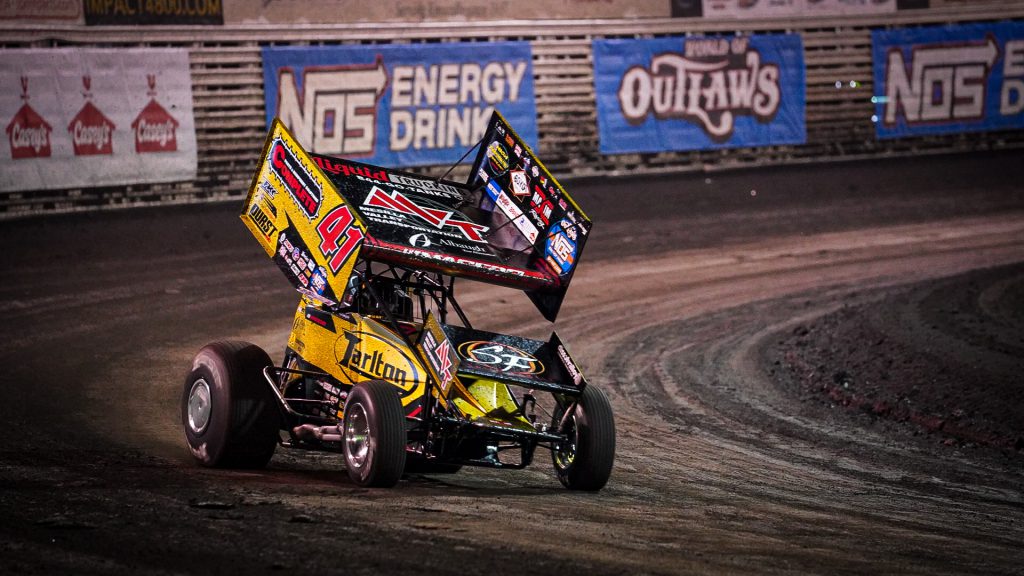 Mixed Results End with a Vicious Crash and a 20th Place Finish on Preliminary Night! Photo Credit: Cameron Saich
Mesilla Valley Transportation (MVT); Tarlton and Son Inc.; Complete Parts & Equipment Solutions; Albaugh – Your Alternative, Saich Family; Border International; Dissolvalloy Downhole Revolution; Jonestown KOA; Durst Inc.; Maxim Racing; The Boyd Family; Liquid Trucking; Meyers Constructors Inc.; Tiger Towing; Pro Powder Coating (PPC); Waco Metal; High Performance Lubricants, LLC; Kistler Engines; Team Jack Foundation; Mark Burch Motorsports; All Pro Auto Reconditioning; K1 Race Gear; AutoMeter; Bandy & Associates Accountancy Corporation; Bell Racing USA; Blackbeard LTD; BR Motorsports; Brown & Miller Racing Solutions (BMRS); Buckwalter Trucking, LLC; C&R Racing; Chalk Stix Torsion Bars; Crow Enterprizes; Engler Machine & Tool, Inc.; Factory Kahne (FK Shocks); Fibreworks Composites; FK Rod Ends; Fuel Safe Racing Cells; Greber Racing Components; Hoosier Racing Tire; ISC Racers Tape; Jansen Transportation; KSE Racing Products; Larry Davis Farms; Logo Daddy Graphics; Mr. Jim's Racing; MSD Performance; RaceDiecast.com; Sam I Am; Schoenfeld Headers; Smith Titanium; T-FAB Custom Metal Fabrication; Vortex Racing Products; Walker Performance Filtration; Weld Wheels; Wilwood Racing; and Winters Performance Products.
To stay connected with Jason Johnson Racing (JJR), go to www.jasonjohnsonracing.com.
To stay up-to-date with Carson Macedo and his success journey on and off the track, as well as to purchase his gear and merchandise directly, visit www.carsonmacedoracing.com.