A SHOW OF STRENGTH: CARSON MACEDO COURAGEOUSLY CLIMBS BACK INTO THE COCKPIT AT BEAVER DAM RACEWAY AND TOUGHS OUT A SEVENTH PLACE FINISH TO KICK OFF THE 13TH ANNUAL JIM "JB" MEMORIAL
BEAVER DAM, WISCONSIN (June 16, 2023) – The Jason Johnson Racing (JJR) #41 sprint car team rolled the Albaugh – Your Alternative/Liquid Trucking/Complete Parts & Equipment Solutions Maxim into the trailer at the shop in Rocky Mount, Missouri and fired up the Border International to head to America's Dairyland. Awaiting them at the end of their long drive to Wisconsin was two nights of competitive racing action at Beaver Dam Raceway to celebrate and honor the 13th Annual Jim "JB" Boyd Memorial event. This 1/3-mile, high banked oval has produced some great racing action in the past and the traveling stars of the World of Outlaws NOS Energy Drink Sprint Car Series were looking to build on that tradition this weekend. With a coveted field of 22 race teams parked throughout the pit area, the drivers and crews were ready to get rolling – World of Outlaws style – for the fans in the stands at Beaver Dam Raceway!
After a vicious crash in the feature at Knoxville Raceway last Saturday night while running in the second position, Carson Macedo was moving gingerly but eager to climb back in the cockpit of the Tarlton and Son/Meyers Constructors/FK Rod Ends #41 for Low-E Insulation Qualifying. With a series leading 10 Simpson Quick Time Awards so far this season, Carson and his JJR crew were fine tuning their qualifying setup to create some speed. They would be the fourth car out on the track for time trials. The brave and courageous Lemoore, California driver stomped on the loud pedal and his Kistler Engines power plant responded as it was ready to take him on a two lap high speed adventure. He roared past the waving green flag as the seconds started ticking away on the stopwatch. He made his way quickly through turns one and two and down the back straightaway. Carson wheeled the forty-one into turn three and in a split second he exited turn four and crossed the timing stripe in an impressive 11.578 seconds to complete lap one. He was relentless and stayed in the throttle as he was looking for any more speed that he could find the next time around. The Factory Kahne (FK) Shocks on the Albaugh #41 were doing their thing as they danced in sync communicating together to keep the car balanced and locked down. When Carson raced under the displayed checkered flag, his performance on lap two was measured in 11.651 seconds. The quicker of Carson's two timed laps at speed positioned him second quick overall on night one at Beaver Dam. It was Sheldon Haudenschild aboard the NOS Energy Drink #17 earning the Simpson Quick Time Award with his best lap clocking in at 11.565 seconds, just 0.013 seconds quicker than Carson.
With each of the three heat race lineups dispersing the drivers into the starting lineups based off of each of their best qualifying effort in time trials, Carson Macedo would line up the Albaugh – Your Alternative #41 in the front row on the pole in the second of three 10-lap heat races. The goal for the drivers is to finish in the top two positions at the end to advance into the Toyota Dash. If that goal is missed, the other deliverable option is to lock down one of the remaining four transfer positions to the feature event. David Gravel would get started beside Macedo in the front row with Logan Schuchart and Donny Schatz rolling right behind them in row two. Robbie Price and Austin Hartman were in row three with Jack Vanderboom finishing out the starting grid.
The field was set. The fans were ready. And, the green flag was out signaling to the field to go racing! Carson drove the Mesilla Valley Transportation (MVT)/Boltz Family/Greber Racing Components (GRC) #41 Maxim into the lead as he led the field into turn one. David Gravel was right behind Macedo followed by Schatz and Schuchart. Carson was fast out front and increasing his lead over Gravel with each completed lap. He would lead the heat race from green to checkers to take the win over Gravel with Schatz, Schuchart and Price rounding out the top five with Austin Hartmann coming home in the sixth position.
Earning a spot in his 24th Toyota Dash, Carson headed up to victory lane to redraw from his starting position. He would be the second driver to pull a pill to find out where he would start. He drew the three pill to put him on the inside of row two. Giovanni Scelzi and David Gravel would get started from the front row with Brad Sweet outside of Carson Macedo in row two. Sheldon Haudenschild and James McFadden were tagging along in row three ready to rip when the green flag came out over the 8-lap dash to determine each driver's starting position. When it did wave, Giovanni Scelzi darted into the lead ahead of David Gravel with Sweet driving into third ahead of Macedo. Scelzi was in form command of the top spot, but Carson was now trying to hold Sheldon with three laps in the books. He was successful and drove the Albaugh #41 back into the fourth position. Giovanni Scelzi would earn the pole position in the feature as he was followed across the finish line by David Gravel, Brad Sweet, and Carson Macedo with James McFadden and Sheldon Haudenschild rounding out the finishing order.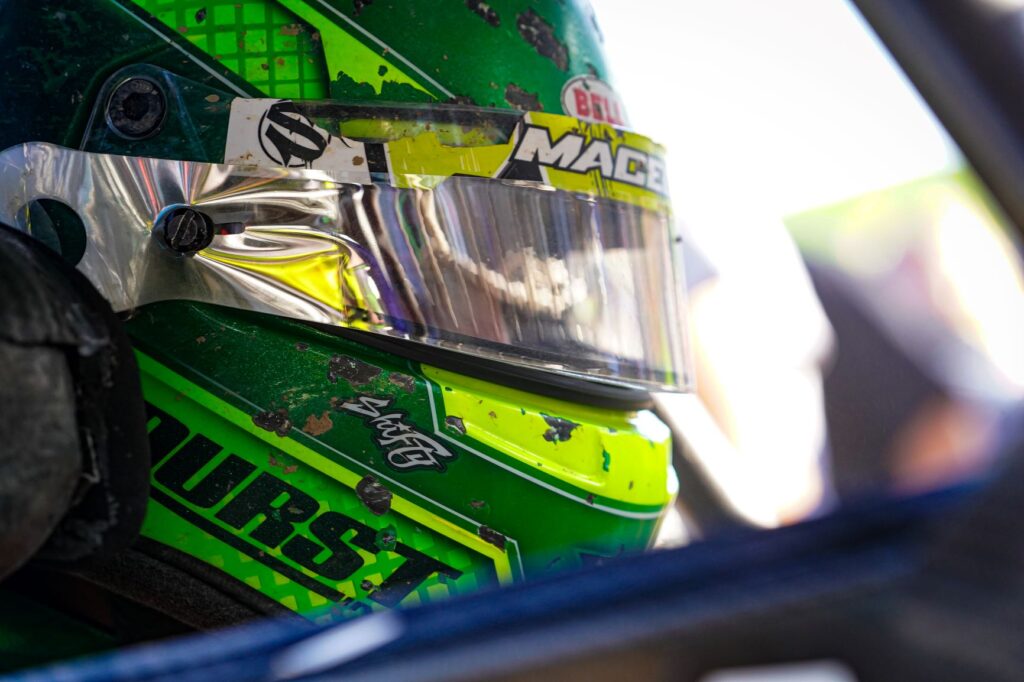 The 24 car field was set for the opening night's 30-lap NOS Energy Drink 13th Annual Jim "JB" Boyd Memorial feature race paying $10,000-to-win. Who was going to celebrate amongst the confetti on Friday night? Only time would tell, but all of the drivers were excited to showcase their talents and speed at Beaver Dam Raceway! It was time to go sprint car racing in Wisconsin!
The field was pacing in neatly aligned rows side-by-side with the flagman prepared to unleash the green flag. When the leaders nosed into turn four they were hammer down as the field raced down the front straightaway and into turn one. Carson Macedo was dicing in the Durst, Inc./Vortex Racing Products/Motor State Distributing #41 Maxim from his fourth starting position battling with Brad Sweet and Sheldon Haudenschild. Giovanni Scelzi led the opening lap with David Gravel and Brad Sweet moving into the mix for the top spot.
Giovanni Scelzi has a fast racecar and was setting the race pace. He approached lap traffic 7 laps into the competition allowing second running Gravel to close the gap a bot that Scelzi had built. The leaders were showing off their talents at speed doing a masterful job navigating the slower cars while holding their positions. It was Scelzi leading Gravel, Sweet, Macedo and McFadden. James McFadden was working the low side and would make his way by Macedo into the fourth position.
On lap 22, the only caution of the night flew for Noah Gass who spun out. Fourth running James McFadden had a close one as simultaneously to Gass spinning out the lap car of Jack Berger was slowing and trying to turn into the infield. McFadden had nowhere to go and got up over Josh Schneiderman's left rear tire but kept going so he maintained his position in the running order.
Giovanni Scelzi led David Gravel with Brad Sweet, James McFadden and Carson Macedo in the top five when they went back to green flag racing. It would be a single file restart with Scelzi racing back into the lead over Gravel and Sweet. Sheldon Haudenschild moved by Macedo's Albaugh – Your Alternative #41 to take over the fifth spot in the running order behind fourth running James McFadden. A lap later Carson would relinquish sixth to the hard charging Jacob Allen in the Shark Racing #1a.
David Gravel was closing in on the leader with two laps to go and when Scelzi electing to go low entering turn one on the last lap he got slowed up by a lap car. Gravel ripped around the top side in the Big Game Motorsports #2 and dove under Scelzi for the lead entering turn three. Scelzi stayed on the hammer and used his momentum to hold off Gravel to earn his first win of the season with David Gravel coming home second, Brad Sweet finishing third as James McFadden and Sheldon Haudenschild completed the top five.
Carson Macedo gritted out a seventh place finish on the night aboard the Engler Machine & Tool/Team Jack Foundation/Bandy and Associates #41. A warrior like effort by Carson Macedo and all of the Jason Johnson Racing (JJR) team. A good run for Macedo and the forty-one!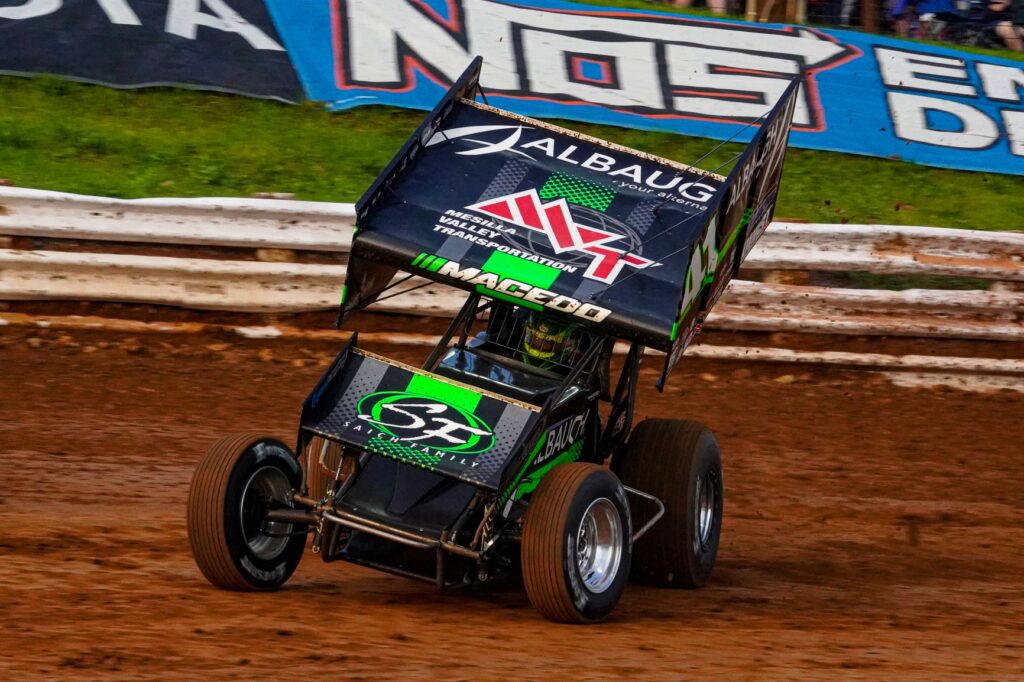 Carson Macedo Shows His Toughness with a 7th Place Run in the Opening Night at Beaver Dam Raceway! Photo Credit: CS Productions – Cameron Saich
Albaugh, LLC; Border International; Mesilla Valley Transportation (MVT); Saich Family; Tarlton and Son Inc.; Boltz Family; Complete Parts & Equipment Solutions; Durst Inc.; Liquid Trucking; Bandy & Associates Accountancy Corporation; Buckwalter Trucking, LLC; Jansen Transportation; Larry Davis Farms; Meyers Constructors Inc.; Mr. Jim's Racing; RaceDiecast.com; Sam I Am; Team Jack Foundation; Mark Burch Motorsports; T-FAB Custom Metal Fabrication; Tiger Towing; All Pro Aluminum Cylinder Heads; AutoMeter; Bell Helmets; BMRS (Brown & Miller Racing Solutions); BR Motorsports; C&R Racing; Crow Enterprizes; Engler Machine & Tool, Inc.; Factory Kahne (FK Shocks); Fibreworks Composites; FK Rod Ends; Greber Racing Components; High Performance Lubricants, LLC; Hoosier Racing Tire; Indy Performance Composites (IPC); ISC Racers Tape; K1 Race Gear; Kistler Racing Engines; KSE Racing Products; Maxim Racing; Motor State Distributing; Premium Coach Group; Pro Powder Coating (PPC); Saldana Racing Products; Schoenfeld Headers; Smith Titanium; Vortex Racing Products; Walker Performance Filtration; Weld Racing; Wilwood Racing; Winters Performance Products; and, Xtreme Body and Paint.
To stay connected with Jason Johnson Racing (JJR), go to www.jasonjohnsonracing.com.
To stay up-to-date with Carson Macedo and his success journey on and off the track, as well as to purchase his gear and merchandise directly, visit www.carsonmacedoracing.com.