A RUN FOR THE MONEY: AFTER CAPTURING HIS QUALIFIER RACE VICTORY, MACEDO DRIVES THE TARLTON AND SON #41 MAXIM TO A TOP FIVE FINISH IN THE $250K-TO-WIN HUSET'S HIGH BANK NATIONALS FINALE
BRANDON, SOUTH DAKOTA (June 24, 2023) – As the sun came up over the horizon in the Midwest on Saturday morning, the race teams and drivers opened their eyes with smiles on their faces as they knew it was going to be a busy and fun day in South Dakota with a chance to run for the big money. Carson Macedo and the Jason Johnson Racing (JJR) team had put together three solid nights of racing results and positioned themselves for a shot at the big money on the final day at Huset's Speedway. That's all you can ask for in these multi-day competitions with accumulated points to measure your whole performance. On Wednesday night, Carson secured a 4th place finish in the feature and earned a total of 417 points, positioning him fifth overall in the event point standings after night one. He came back on Thursday and ran in 11th place in the feature, adding another 415 nightly points to bring his overall accumulated point total to 832 after night two. That point total moved him into third position in the overall point standings after the first two preliminary nights. During the final preliminary night on Friday evening, Carson secured a 9th place finish to earn 409 points. Based on the event format, the best two preliminary night point totals for each driver were retained, eliminating the lowest scoring night, to bring Carson's best overall score to 832 points by retaining his first two night scores. His accumulated point total had Carson sitting in sixth place in the overall point standings heading into Saturday night. There were 49 cars back at Huset's Speedway looking to earn some of the purse money in the $250k-to-win finale at the Billion Auto Huset's High Bank Nationals presented by Menard's.
There would be six 10-lap qualifier races next on the race agenda with the winners of each qualifier races moving on to the King of the Hill. They would join the two top event point earners for the week, Logan Schuchart and Michael "Buddy" Kofoid, to determine their starting position. The second and third place finishers in the qualifier races would also transfer into the feature with the fourth through sixth place finishers transferring to the B-Main.
Carson Macedo would start on the pole position aboard the Tarlton and Son/High Performance Lubricants/Wilwood Racing #41 Maxim in NOS Energy Drink Qualifier Race #4 with Brian Brown to his outside. The tandem of Austin McCarl and Ryan Timms were lined up in row two with Tim Kaeding and Kaleb Johnson in row three and Riley Goodno and Ryan Bickett in row four.
The field of competitors were lined up and ready to roll when the green flag came out. Carson Macedo drove the Albaugh #41 into the top spot ahead of Brown and McCarl on the opening circuit with Tim Kaeding wheeling by Ryan Timms for the fourth position. Austin McCarl and Brian Brown, two Knoxville Raceway regulars, were trading the second positions in a fierce battle. Brown had it. McCarl took it over. Brown stole it back and ultimately would maintain it all the while Carson was building his lead. Carson would lead Qualifier Race #4 from start-to-finish to take the win over Brian Brown with Tim Kaeding earning a feature starting spot from row three. Austin McCarl and Ryan Timms rounded out the top five with Kaleb Johnson coming home sixth to transfer to the B-Main.
The winners of the Qualifier races: David Gravel (Qualifier Race #1), Giovanni Scelzi (Qualifier Race #2), Kyle Larson (Qualifier Race #3); Carson Macedo (Qualifier Race #4); Sheldon Haudenschild (Qualifier Race #5); and, Rico Abreu (Qualifier Race #6).
Next up for the eight drivers who earned their way into the King of the Hill was a shot to race against the clock with another competitor with the driver who lays down the fastest lap advancing into the next round. Rico Abreu and Sheldon Haudenschild were the first two out on the track with Abreu topping the speed charts with a lap of 10.821 seconds against Haudenschild to advance. Sheldon Haudenschild would get the NOS Energy Drink #17 starting from the 8th starting spot in the feature.
He would face Carson Macedo in the Durst Inc./Jansen Transportation/Motor State Distributing #41. The green was out and each driver was looking to run the fastest lap. When the checkered flag waved it was Rico Abreu again with a lap of 10.727 seconds. By virtue of the outcome, Carson would lock into the seventh starting position for the feature.
Rico Abreu was not done yet as he disposed of Kyle Larson in the next round with a lap of 10.722 seconds, followed up by another impressive show against Giovanni Scelzi with a lap of 10.714 seconds. He was not done yet as he knocked off David Gravel in the next round with the faster of two laps coming in at 10.705 seconds.
Abreu was now looking to earn a front row starting against Michael "Buddy" Kofoid. The green was out, but Kofoid had the Roth Motorsports #83JR moving and stopped Rico Abreu's impressive performance with a lap of 10.700 seconds. Kofoid then took on high point man, Logan Schuchart, and secured the pole position for the feature with a lap of 10.614 seconds over Schuchart.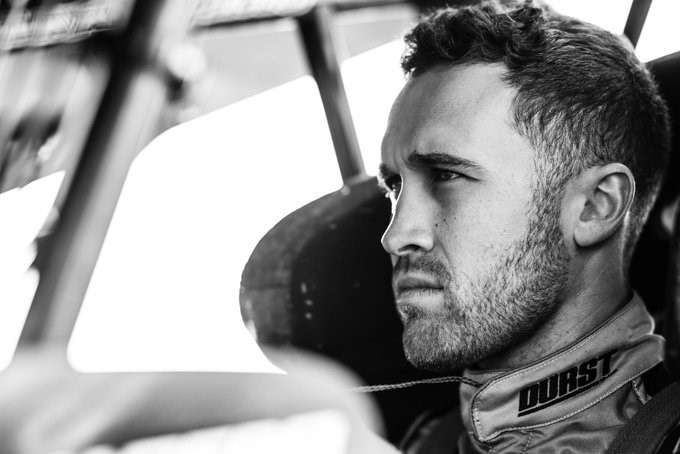 The event format for this race rewarded not only better performance over the three preliminary nights of racing at the Huset's High Bank Nationals, it also demanded a high level of consistency and attention to detail for each of the drivers and teams. The psychology of the format forced each of the competitors to put the previous night's performance – good or bad – behind them and refocus on each night at hand. The crew members busted their behinds and when all was said and done the field of 54 drivers and teams to start the week was chiseled down to only the 24 best drivers and teams. Those drivers earned a spot in the highest paying race to-date in sprint car racing history for the winner. A cool $250,000-to-win and a nice payout for each of the remaining finishing positions for those drivers that earned a starting spot in the prestigious event. Now it was time to find out who was going to bank the cash in the 40-lap Billion Auto Huset's High Bank Nationals presented by Menard's championship finale at Huset's Speedway.
As a result of his previous three nights of work and first place finish in Saturday's Qualifier Race #6, Carson Macedo and the JJR #41 team locked their entry into Saturday night's big show. Carson would get the Albaugh – Your Alternative/Boltz Family/Motor State Distributing #41 Maxim started from the seventh starting position on the grid. A focused and meticulous car owner and crew chief originally from Texas (Philip), the hard working car chief from Missouri (Clyde), and the articulate tire specialist from Pennsylvania (Nathan) put their final touches on the forty-one for their speed competitor from California (Carson) as the field was called to the track. It was time to "Show Me the Money!" in South Dakota at Huset's Speedway – World of Outlaws style!
The drivers were laser focused on doing their jobs while creating speed and trying to avoid any mistakes. The field rolled two-by-two towards the chalk stripe laid down across turn four and when the front row starters arrived the green flag was high in the air. It was Michael "Buddy" Kofoid to the front ahead of fourth starting David Gravel and second starting Logan Schuchart. Carson Macedo was scored in the eight position on lap one as he was giving chase trying to catch Sheldon Haudenschild.
The leader was setting an impressive pace and 10 laps into the feature he began a high speed navigation routine through slower traffic. His lead was diminishing as second running David Gravel was able to close the gap slightly as the leaders maneuvered through lap traffic. It was Kofoid, Gravel, Schuchart, Abreu and Haudenschild in the top five. Carson got shuffled back to ninth place when he lost track position to Spencer Bayston.
On lap 19, Carson picked the eighth position back up and started to focus forward. Up front, Logan Schuchart hustled the Shark Racing #1s by David Gravel to reclaim the second position. Schuchart was not done yet as he immediately turned his attention towards the Kofoid and was closing in quickly. He was close, but in lap traffic Gravel moved back into second using the low line.
On lap 30, disaster struck for the Kofoid as smoke began to come from the engine area and expired. With 10 laps to go, David Gravel inherited the lead with Rico Abreu and Logan Schuchart now behind him with Kyle Larson and Spencer Bayston rounding out the top five to bring them back to the green. Carson was now running in the sixth position in the Albaugh #41 with Sheldon Haudenschild, Giovanni Scelzi, Cory Eliason, and James McFadden following.
David Gravel used the clean air to his advantage with Rico Abreu working hard to keep pace. Logan Schuchart and Kyle Larson were putting on a great show as they swapped the show position multiple times. With 8 laps to go, the yellow flag waved again for a four car incident in turn three involving cars racing for position. Sheldon Haudenschild was racing with Carson for the sixth spot when he entered turn three high and got sideways up over the cushion collecting eight running Scelzi, tenth place McFadden, and eleventh place Tim Kaeding.
With 32 laps in the books it was David Gravel, Rico Abreu, Logan Schuchart, Kyle Larson and Spencer Bayston all eyeing the big run to the money. The green came back out and David Gravel drove the Big Game Motorsports #2 back out front with Rico a few car lengths behind. Kyle Larson moved by Logan Schuchart into third as Carson Macedo passed Spencer Bayston into the fifth position.
David Gravel would not be denied and raced to the $250k payday with Rico Abreu coming home second, Kyle Larson third, Logan Schuchart fourth with Carson Macedo rounding out the top five in the Albaugh #41. Carson and the JJR #41 team worked hard all week resulting in a top five run for the forty-one. While they didn't win all the money, congratulations to David Gravel, they were consistent and showed speed throughout the four nights of action at the 2023 edition of the Huset's High Bank Nationals.
The team will continue to stay focused as the schedule takes them back to Wisconsin next week for the two-day Independence Day Spectacular at Cedar Lake Speedway! If your plans so not include a trip to New Richmond, Wisconsin to attend the race, be sure to tune into DIRTVision to catch both nights of action.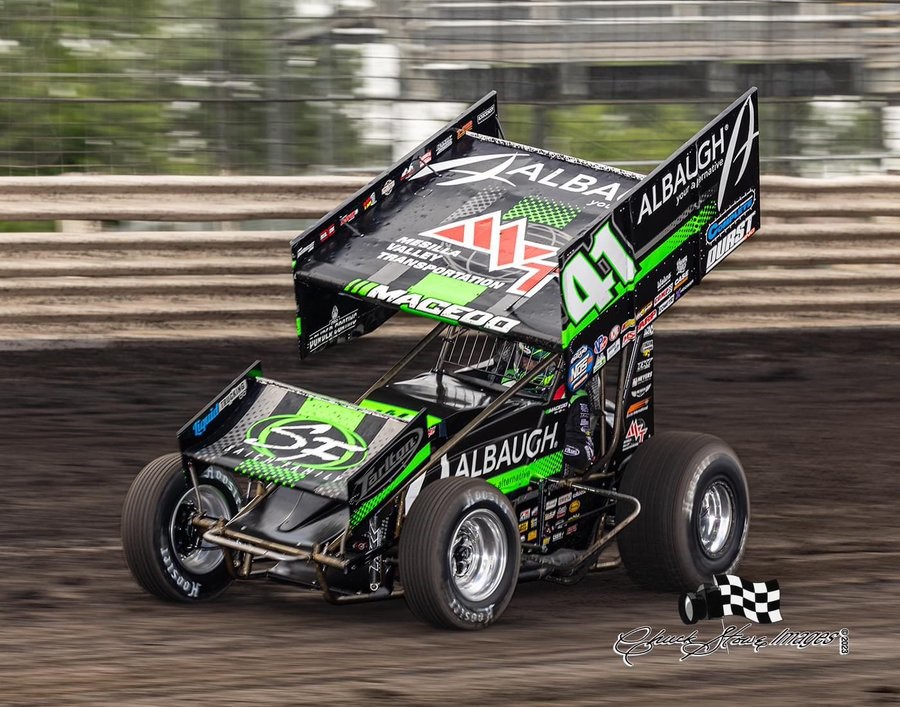 The High Bank Nationals at Huset's Speedway Culminates with a Fifth Place Finish! Photo Credit: Chuck Stowe Images
Albaugh, LLC; Border International; Mesilla Valley Transportation (MVT); Saich Family; Tarlton and Son Inc.; Boltz Family; Complete Parts & Equipment Solutions; Durst Inc.; Liquid Trucking; Bandy & Associates Accountancy Corporation; Buckwalter Trucking, LLC; Jansen Transportation; Larry Davis Farms; Meyers Constructors Inc.; Mr. Jim's Racing; RaceDiecast.com; Sam I Am; Team Jack Foundation; Mark Burch Motorsports; T-FAB Custom Metal Fabrication; Tiger Towing; All Pro Aluminum Cylinder Heads; AutoMeter; Bell Helmets; BMRS (Brown & Miller Racing Solutions); BR Motorsports; C&R Racing; Crow Enterprizes; Engler Machine & Tool, Inc.; Factory Kahne (FK Shocks); Fibreworks Composites; FK Rod Ends; Greber Racing Components; High Performance Lubricants, LLC; Hoosier Racing Tire; Indy Performance Composites (IPC); ISC Racers Tape; K1 Race Gear; Kistler Racing Engines; KSE Racing Products; Maxim Racing; Motor State Distributing; Premium Coach Group; Pro Powder Coating (PPC); Saldana Racing Products; Schoenfeld Headers; Smith Titanium; Vortex Racing Products; Walker Performance Filtration; Weld Racing; Wilwood Racing; Winters Performance Products; and, Xtreme Body and Paint.
To stay connected with Jason Johnson Racing (JJR), go to www.jasonjohnsonracing.com.
To stay up-to-date with Carson Macedo and his success journey on and off the track, as well as to purchase his gear and merchandise directly, visit www.carsonmacedoracing.com.