A RESILIENT RUN IN WISCONSIN: QUICK TIME AGAIN AND A RUNNER-UP FINISH TO CAP OFF THE FVP PLATINUM BATTERY SHOWDOWN AT CEDAR LAKE SPEEDWAY IS REWARDING FOR BOTH THE DRIVER AND THE JJR #41 TEAM
NEW RICHMOND, WISCONSIN (July 6, 2019) – After finishing Friday night's unfinished business with a seventh place finish, after rain washed out the final 28 laps on Friday night, David Gravel and the JJR #41 team were determined to rebound in the regular show at Cedar Lake Speedway on Saturday. This is a resilient bunch of people, a characteristic deeply embedded in this team under their fallen leader Jason Johnson, and they were ready to go racing again at the 3/8-mile, high-banked oval. They had a little something extra special they were working for as Jason's birthday is July 7th. He would have been 43 year old. There were once again 26 cars in the pit area chasing the winner's prize on the second night of the FVP Platinum Battery Showdown.
David would be the fifth driver to take to the track for his qualifying laps. Sheldon Haudenschild, who won the Friday night portion of the show, went out third and set the quick mark at 13.032 seconds. David jumped on the accelerator in the Durst, Inc./ISC Racers Tape #41 Maxim and shot to the top of the speed charts with an impressive lap of 13.015 seconds around Cedar Lake Speedway. He stayed on the loud pedal and turned in another good lap, but slightly slower, at 13.032 seconds. His time would stand the test of time, and his competitors, as he collected another quick time on the season to start his night off strong.
He returned to the pole position in the Mesilla Valley Transportation (MVT)/FK Rod Ends #41 for the first, and fastest, heat race where he would share the front row with "The North Pole Nightmare" Bill Balog. Row two was comprised of Ian Madsen and Jacob Allen as Wade Nygaard, Paige Polyak, Kraig Kinser, Brent Marks and Russell Borland filled out the remainder of the starting grid. Gravel wasted little time running to the top position in clean air over Balog when the green cloth alerted them to go at speed. He stayed up on the wheel and was turning consistent and quick laps at speed. He would lead all ten laps and earn a spot in the DIRTVision Fast Pass Dash winning by 0.690 seconds over Balog who would come home in the runner-up position. Ian Madsen finished third followed by Allen and Marks with Nygaard locked down the sixth and final transfer position from heat one.
The lineup for the 8-lap DIRTVision Fast Pass Dash was set after each driver pulled a pill with a number on it from the oversized NOS Energy Drink can. Dominic Scelzi would sit on the pole with Sheldon Haudenschild to his outside. David would start third aboard the Dissolvalloy Downhole Revolution/High Performance Lubricants #41 Maxim with Carson Macedo to his outside. Brad Sweet and Bill Balog would start from row three. Scelzi drove into the lead on the opening lap as Gravel drove the forty-one into the runner-up position. Sheldon would battle back and own the runner-up position again, but Gravel was charging hard. So was Brad Sweet. Sweet made a late race charge and made a last lap pass for the lead and took the win over Scelzi as Gravel cruised home in third followed by Haudenschild, Macedo and Balog.
The only thing left on this night's action packed race schedule was the 35-lap FVP Platinum Battery Showdown at Cedar Lake Speedway. Track officials and prep crew did a tremendous job all weekend to give the drivers a great track to put on an entertaining show for the fans. With Jaxx Johnson assisting the JJR #41 crew in the pit area, they made their final preparations and pushed their driver to the staging area and onto the track as the starting lineup was being read overhead by Johnny Gibson. After their four-wide salute to the fans, they aligned back into their two-by-two starting order and Brad Sweet powered into the early lead. Gravel was battling Scelzi for the runner-up position when a caution flag was thrown on lap four for the ailing mount of Jason Sides who exited quickly from the cockpit. When racing resumed, Sweet continued to lead as Gravel firmly planted the J.R.C. Transportation/Buckwalter Trucking, LLC #41 in the show position. The field was fanning out with Sweet, Scelzi and Gravel in the top three positions. With 10 laps to go, Gravel passed Scelzi for second with his eyes focused on the leader. Sweet would collect his ninth win of the season as Gravel came home second and Carson Macedo charged home third to round out the podium. A great run for the forty-one to honor Jason Johnson as the checkers flew after midnight, which meant it was their gift to him for his birthday!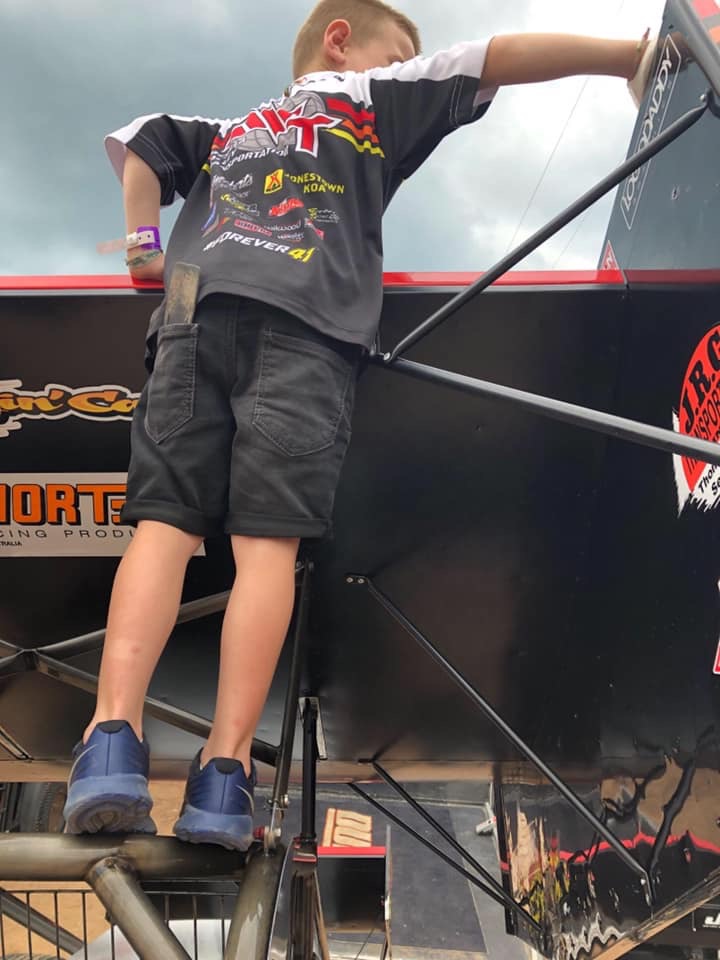 We are proud to represent all of our dedicated and loyal supporters:
Mesilla Valley Transportation (MVT); Saich Family; Jonestown KOA; Dissolvalloy Downhole Revolution; Weikert's Livestock; J.R.C. Transportation, Inc.; Durst Inc.; Maxim Racing; The Boyd Family; Pro Powder Coating (PPC); Waco Metal; High Performance Lubricants, LLC; Team Jack Foundation; Mark Burch Motorsports; Tiger Towing; All Pro Aluminum Cylinder Heads, Inc.; All Pro Auto Reconditioning; AutoMeter; Bell Racing USA; Blackbeard; Brown & Miller Racing Solutions (BMRS); Buckwalter Trucking, LLC; C&R Racing; Chalk Stix Torsion Bars; Cody Monoco Racing; Crow Enterprizes, Engler Machine & Tool, Inc.; Factory Kahne FK Shocks; Fibreworks Composites; FK Rod Ends; Fuel Safe Racing Cells; Greber Racing Components; Hoosier Racing Tire; ISC Racers Tape; Jansen Transportation; K&N Filters; Kaiden Kares; Kistler Racing Engines; KSE Racing Products; LogoDaddy Graphics; Max Papis Innovations (MPI); MSD Performance; RaceDiecast.com; Schoenfeld Headers; Shell Shock Paint; Simpson Race Products; T-FAB Custom Metal Fabrication; Vortex Racing Products; Weld Wheels; Wilwood Racing; and Winters Performance Products.
To stay connected with Jason Johnson Racing (JJR), go to www.jasonjohnsonracing.com.
To stay up-to-date with David Gravel and his success and journey on and off the track, as well as to purchase his gear and merchandise, go to www.DavidGravel89.com.