A PODIUM FINISH IN TUCSON: A STRONG RUN AT USA RACEWAY TO KICK OFF THE WEEKEND OF RACING IN ARIZONA NETS A THIRD PLACE FINISH FOR DAVID GRAVEL AND THE JJR TEAM
TUCSON, ARIZONA (April 5, 2019) – The JJR #41 team made their way to USA Raceway on Friday night for some World of Outlaws NOS Energy Drink Sprint Car series racing action. The fans came out early to see the best in the business perform. There were 21 cars signed in to race and David Gravel and the JJR crew were ready to get rolling in the Mesilla Valley Transportation (MVT)/Durst Inc. #41 Maxim.
The Watertown, Connecticut native would be the ninth car out for his two time trial laps. He sat patiently in the staging area and flipped down the shield of his Simpson helmet when it was time to get going. His Kistler Racing Engines power came to life and the talented speed chauffeur pressed his right foot down and turned in a quick lap of 13.321 seconds his first time around. He was quick again the second time around, but his second lap was slightly slower at 13.399 seconds. The faster of his two laps ended up being sixth quick overall on the night.
With three 8-lap heat races set to go, Gravel would start on the outside front row aboard the Mesilla Valley Transportation (MVT)/T-FAB Custom Metal Fabrication #41 in the last heat race. Donny Schatz would be the polesitter with a lot of talented drivers pacing behind the front row. When the green flag waved, Gravel followed Schatz as the front two set the pace. Schatz put a little distance between himself and the forty-one, eventually taking the win by 2.719 seconds over Gravel. The front two finishers were followed across the finish line by Chad Kemenah and Logan Schuchart with Rico Abreu rounding out the top five. The final transfers were Mason Daniel and Gravy Fairfield.
Moving into the 6-lap DIRTVision Fast Pass Dash, where the finishing order sets the starting lineup for the first 3 rows of the feature, the Weikert's Livestock/Buckwalter Trucking, LLC #41 Maxim would start third behind Ian Madsen and Donny Schatz as Brent Marks, Brian Brown and Brad Sweet completed the starting grid. Schatz would drive into the lead at the start over Madsen with Marks and Gravel giving chase. Six laps goes by quickly in these high powered machines and Schatz took the race win over Madsen, Marks and Gravel with Brown and Sweet rounding out the finishing order.
It was now time for the 30-lap main event at USA Raceway for the Wildcat Shootout. The fans were ready. The drivers were ready. And it was time to go racing in Tucson, Arizona! Your early leader was Ian Madsen and Gravel made some noise early on as he passed both Brent Marks and Donny Schatz on the first lap. The race was far from over, but Gravel was putting on a show in the High Performance Lubricants/Team Jack Foundation/Waco Metal #41. By lap 10, Brad Sweet had made his way forward in the NAPA #49 and got by Gravel for the position on the track. Gravel was running in the show position with 11 laps to go when the caution flag was displayed. When racing resumed, he got his elbows back up inside the cockpit of his Maxim Racing machine and held his position the remainder of the race to bring home a solid third place finish behind race winner Brad Sweet and Ian Madsen with Donny Schatz finish fourth and Brian Brown coming home fifth. A great run for the forty-one!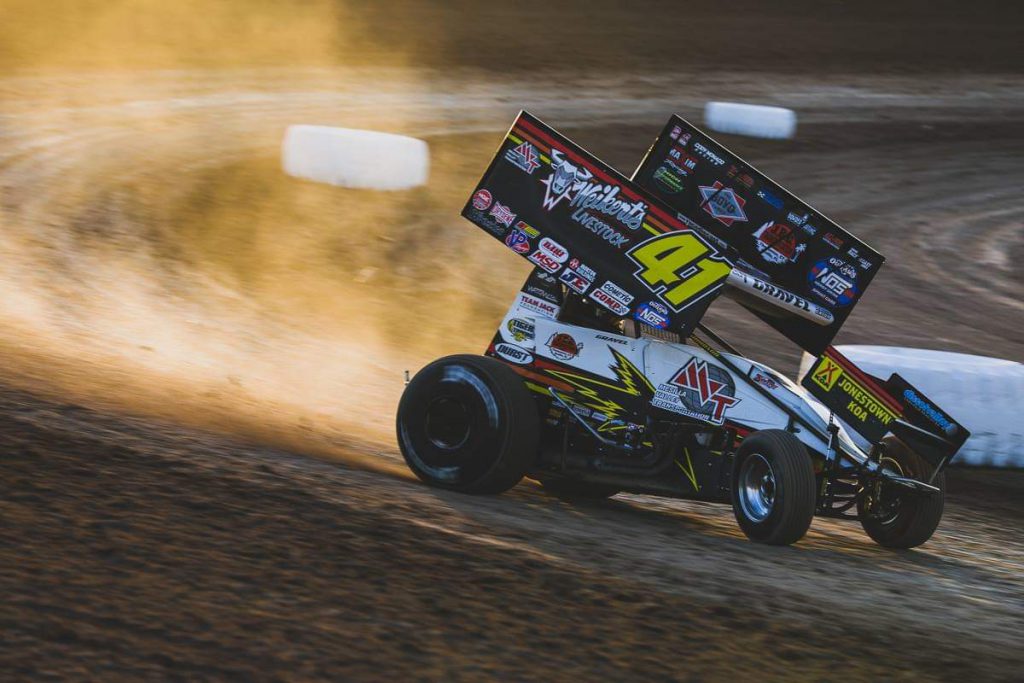 We are proud to represent all of our dedicated and loyal supporters:
Mesilla Valley Transportation (MVT); Saich Family; Jonestown KOA; Dissolvalloy Downhole Revolution; Weikert's Livestock; J.R.C. Transportation, Inc.; Durst Inc.; Maxim Racing; The Boyd Family; Pro Powder Coating (PPC); Waco Metal; High Performance Lubricants, LLC; Team Jack Foundation; Mark Burch Motorsports; Tiger Towing; All Pro Aluminum Cylinder Heads, Inc.; All Pro Auto Reconditioning; AutoMeter; Bell Racing USA; Blackbeard; Brown & Miller Racing Solutions (BMRS); Buckwalter Trucking, LLC; C&R Racing; Chalk Stix Torsion Bars; Cody Monoco Racing; Crow Enterprizes, Engler Machine & Tool, Inc.; Factory Kahne FK Shocks; Fibreworks Composites; FK Rod Ends; Fuel Safe Racing Cells; Greber Racing Components; Hoosier Racing Tire; ISC Racers Tape; Jansen Transportation; K&N Filters; Kaiden Kares; Kistler Racing Engines; KSE Racing Products; LogoDaddy Graphics; Max Papis Innovations (MPI); MSD Performance; Schoenfeld Headers; Shell Shock Paint; Simpson Race Products; T-FAB Custom Metal Fabrication; Vortex Racing Products; Weld Wheels; Wilwood Racing; Winters Performance Products; and, www.racediecast.com.
To stay connected with Jason Johnson Racing (JJR), go to www.jasonjohnsonracing.com
To learn more about David Gravel, and stay up to date with his success and journey, go to www.DavidGravel89.com