A MILESTONE MEMORY AT THE DIRT TRACK: DAVID GRAVEL WHEELS THE WEIKERT'S LIVESTOCK #41 MAXIM UNDER THE CHECKERED FLAGS AT THE CAN-AM WORLD FINALS TO EARN HIS 50TH CAREER WORLD OF OUTLAWS VICTORY
CONCORD, NORTH CAROLINA (November 8, 2019) – As they say in the racing circles, all dirt roads truly do lead to Charlotte for race teams in early November. As the World of Outlaws NOS Energy Drink Sprint Car Series brings their season to a close at the three day Can-Am World Finals, 53 sprint cars took laps against the clock in time trials on Thursday night for the first night of racing action on Friday. David Gravel, currently sitting third in the season long point standings, was eyeing up his weekend as he searched to not only end the season strong, but also collect his 50th career World of Outlaws (WoO) victory. Philip Dietz, Tyler Elliott and Patrick Dudzinski had their driver's high speed chariot ready to roll at the beautiful facility located just across the highway from the famed NASCAR track and next to zMAX Dragway.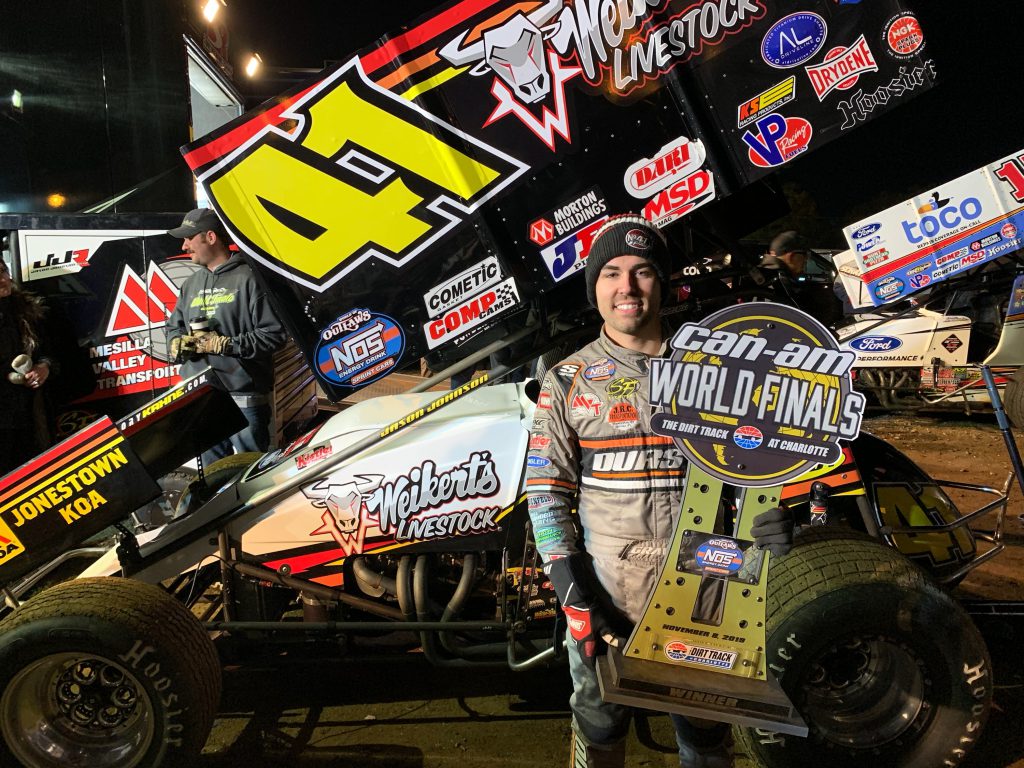 The 2019 Knoxville Nationals champion did his job on Thursday night in time trial qualifying aboard the Mesilla Valley Transportation (MVT)/Weikert's Livestock #41 Maxim as he was second quick in Flight A with a lap of 12.895 seconds, behind only Logan Schuchart who turned a lap of 12.774 seconds in their set of qualifiers. David's fastest lap would set up his night as it earned him a front row starting spot in his heat race.
Starting from the pole position in the first Drydene heat race, the Watertown, Connecticut driver would share the front row with always fast Giovanni Scelzi. Those front two drivers would be followed in the starting grid by Anthony Macri, Jason Sides, Dave Blaney, Brent Marks, Sammy Swindell, Trey Starks and John Garvin. Gravel would drop his right foot and his Kistler Engines/Engler Machine & Tool power would come to life and he would drive to the front entering turn one with Scelzi giving chase. With the cooler temperatures, the engines were sucking in the sweet air and generating incredible power and speed that captured the attention of all the fans in the stands. Gravel would lead from wire-to-wire to take the win over Scelzi, as Anthony Macri secured the third and final transfer position from heat two.
With two separate DIRTVision Fast Pass Dash events slated due to the number of cars, Gravel's good night continued as he drew the '1' pill to start from the pole of the first 6-lap race with the finishing order setting the starting order of the inside for the first six rows for the 25-lap feature event. When the green flag waved, Gravel powered his way into the lead in the J.R.C. Transportation/High Performance Lubricants #41 as Ian Madsen was in hot pursuit. Gravel collected the dash victory over Madsen, Logan Schuchart, Giovanni Scelzi, Carson Macedo and Kraig Kinser.
With the fans bundled up in warm clothing and jackets to fight off the dropping temperatures, it was time to go racing at the Dirt Track at Charlotte for the first night of action in the Can-Am World Finals. Gravel rolled the Jonestown KOA/Buckwalter Trucking, LLC #41 Maxim out on the track ready to do battle. The track surface already endured the big block modified and the late model features, so the track was definitely slicked off but also had a tricky cushion at both ends. Starting in their two-by-two starting order, Gravel crossed the chalk line and drove into the lead and was setting a fast pace from the get go. David was in control at the front of the pack over the first 10 laps, but Aaron Reutzel in the #87 was on the loud pedal and coming quick. As the leaders approached lapped traffic, Reutzel who is from Clute, Texas made the pass for the lead on lap 13 but got hung up behind the slower Dave Blaney in turn two allowing Gravel to drive back underneath him and back into the lead. Reutzel got shuffled back to the fourth spot, but now Logan Schuchart and a hungry Donny Schatz were in contention at the front. A caution flag with 9 laps to go cleared the lapped cars and reset the field for a single file restart. Gravel used the clear track ahead to build his lead in the cool fresh air as Schuchart and Schatz continued to battle for the runner-up position. Schatz would seize it and start to close slightly on the leader in the waning laps. Gravel was able to seal the deal as he raced the Mesilla Valley Transportation (MVT)/Durst, Inc. #41 Maxim under the checkers first to earn his goal of 50 career WoO wins! After heading to the wing with Jaxx Johnson, the late Jason Johnson's son, to celebrate their win, Gravel explained, "I really wanted to get #50 this year. That was one of my goals this year." He continued, "I got a couple of lucky breaks. I made a mistake in traffic and Reutzel went high, but luckily Dave Blaney did too and the bottom opened up. I can't do this without this JJR team. Jaxx (Johnson) being here. A lot of sponsors. A lot of our family. We still have one more race to go. Hopefully we can sweep the weekend, but this is a good start." A good start indeed and a huge accomplishment for David Gravel to get his goal of 50 wins. A great night of memories for David Gravel and the forty-one team!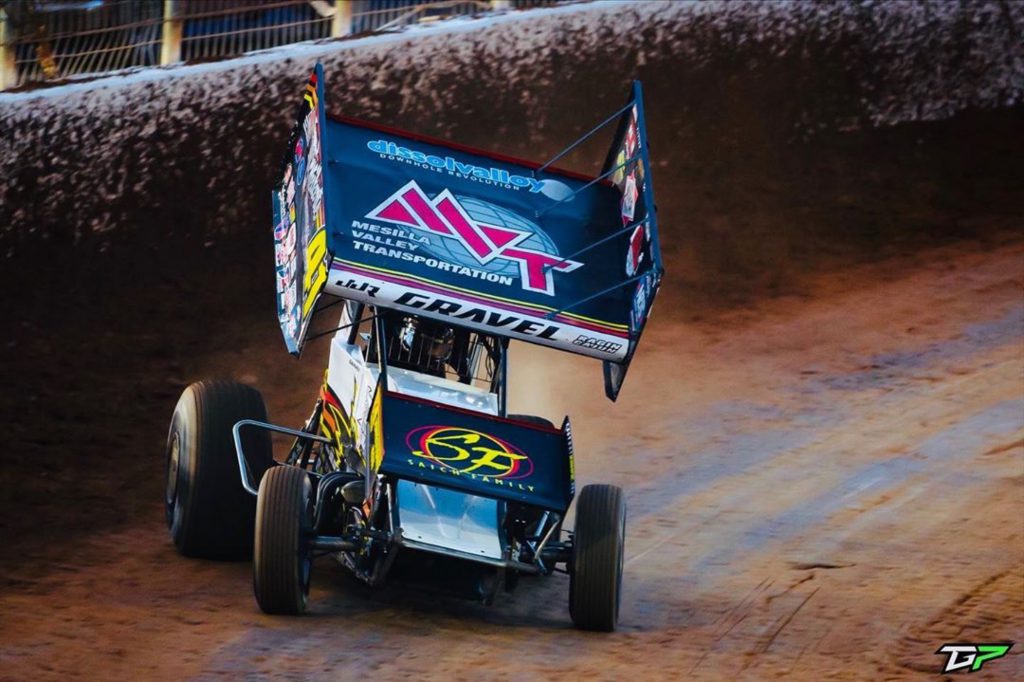 Mesilla Valley Transportation (MVT); Saich Family; Jonestown KOA; Dissolvalloy Downhole Revolution; Weikert's Livestock; J.R.C. Transportation, Inc.; Durst Inc.; Maxim Racing; The Boyd Family; Pro Powder Coating (PPC); Waco Metal; High Performance Lubricants, LLC; Team Jack Foundation; Mark Burch Motorsports; Tiger Towing; All Pro Aluminum Cylinder Heads, Inc.; All Pro Auto Reconditioning; AutoMeter; Bell Racing USA; Blackbeard; Brown & Miller Racing Solutions (BMRS); Buckwalter Trucking, LLC; C&R Racing; Chalk Stix Torsion Bars; Cody Monoco Racing; Crow Enterprizes, Engler Machine & Tool, Inc.; Factory Kahne FK Shocks; Fibreworks Composites; FK Rod Ends; Fuel Safe Racing Cells; Greber Racing Components; Hoosier Racing Tire; ISC Racers Tape; Jansen Transportation; K&N Filters; Kaiden Kares; Kistler Racing Engines; KSE Racing Products; LogoDaddy Graphics; Max Papis Innovations (MPI); MSD Performance; RaceDiecast.com; Schoenfeld Headers; Shell Shock Paint; Simpson Race Products; T-FAB Custom Metal Fabrication; Vortex Racing Products; Weld Wheels; Wilwood Racing; and Winters Performance Products.
To stay connected with Jason Johnson Racing (JJR), go to www.jasonjohnsonracing.com.
To stay up-to-date with David Gravel and his success and journey on and off the track, as well as to purchase his gear and merchandise, go to www.DavidGravel89.com.