A DOMINANT RUN TO END THE 2019 KNOXVILLE NATIONALS: DAVID GRAVEL AND THE JJR #41 AXALTA TEAM RUN AWAY WITH THE WIN AT THE 59TH ANNUAL NOS ENERGY DRINK KNOXVILLE NATIONALS
KNOXVILLE, IOWA (August 10, 2019) – The 59th Annual NOS Energy Drink Knoxville Nationals. It truly is sprint cars version of the Indianapolis 500 or NASCAR's Daytona 500. While every race is important to racers and race teams, there is just something extra special about the prestigious Knoxville Nationals. The energy is electric in this small Midwestern town of around 7,500 residents every August because of this race. They welcome the sprint car world to their hometown. Maybe what makes it special is the greats that have won it in the past like Kenny Weld, Joe Saldana, Jan Opperman, Eddie Leavitt, Steve Kinser, Sammy Swindell, Doug Wolfgang, Eddie Leavitt, Donny Schatz, Bobby Allen, Brad Sweet, Mark Kinser and Jason Johnson in 2016. I am really not 100% sure, but winning the Knoxville Nationals is unquestionably the most coveted trophy in sprint car racing . . . bar none. Sprint car drivers and race teams, dream of winning this race. This is the race. But, very few do as only 25 drivers in the history of the race have stood in Victory Lane since Roy Robbins held the checkered flag after winning the first Knoxville Nationals in 1961.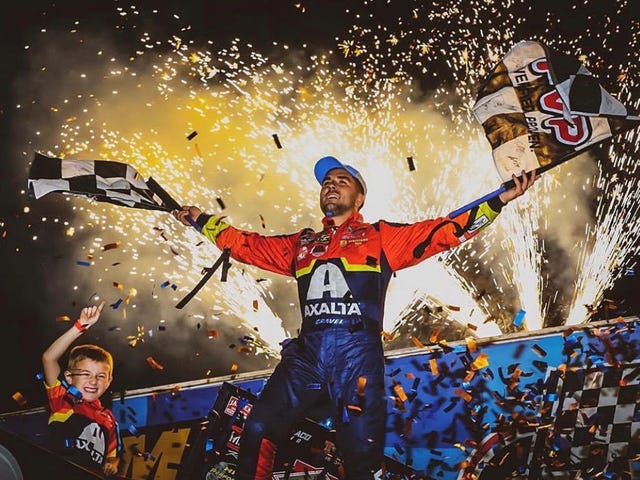 There are only 24 starting spots in the A-Main field. No provisional starting spots. You have to earn your way into the field every time you hit the track on your qualifying night. David Gravel did just that on Thursday night in his Axalta/Mesilla Valley Transportation (MVT) #41 Maxim by accumulating 481 points after winning the feature on his qualifying night to share the front row on Saturday night with Aaron Reutzel. Philip Dietz (Crew Chief of the JJR #41) along with Tyler Elliott, Patrick Dudzinski, Travis Marsch and Chris Layher worked extremely hard all week to give their driver, David Gravel, the best car they could so he could do what he does best. They did a terrific job and the only thing between them and adding their driver's name to the prestigious winner's list was 50 solid laps and a little luck.
But before the racing got started on the track, they paused and recognized the JJR #41 Axalta team with a few other wins for their cohesive planning and team efforts for the week. First they won the 2019 Best Appearing Car. Not a surprise as Sean Cain from Blackbeard did a tremendous job designing the care and Noah Ennis at Shell Shock did a fabulous job painting it with Axalta products. And, then the JJR team won the 2019 Best Dressed Team. Dressed in their Axalta gear and customized Vans with the inscription FOREVER41 on the back of the left shoe and JJR41 on the back of the right shoe, every member of the team, including those at the merchandise trailer, were all coordinated and in sync from top to bottom just like Bobbi Johnson planned. Not a bad way to start out the day for the team.
After pulling into their pit area, ironically they were in pit stall 41, it was time to go racing at Knoxville Raceway in the 59th Annual NOS Energy Drink Knoxville Nationals! The talented chauffeur from Watertown, Connecticut emblazoned in his Axalta branded Simpson Race Products drivers' suit climbed into the cockpit of his Maxim Racing chassis. With a smile on his face, he pulled on his Shell Shock custom painted Axalta helmet and was ready for the battle ahead against the best in the business to see if he could earn the win and right to have his name inscribed in history. With his Kistler Engines power fired he rolled around the historic half mile as fireworks filled the air before the start of The Greatest Show on Dirt at Knoxville Raceway! Reutzel and Gravel brought the field out of turn four in their two-by-two starting order with Gravel controlling the high side as Reutzel handle the low line. It was Reutzel to the lead entering turn one as third starting Joey Saldana followed him on the low side to secure the second spot. Reutzel would lead lap one with Saldana and Gravel keeping him in their sights. They were reeling him in as Saldana would chase down Reutzel to lead 2 laps before Reutzel battled back to the lead. All the while Gravel patiently waited for his Weikert's Livestock/Durst, Inc. #41 Maxim Racing machine to come in and before you knew it the blue Axalta race car highlighted with fluorescent yellow, orange and red paint was back in the mix for the lead. Gravel would take the lead on lap 14 and would start to show his strength as he built a good size lead when the planned yellow was thrown at the halfway point of the race for the teams to refuel and make minor mid-race adjustments. It was Gravel at the front with Reutzel holding off tenth starting Daryn Pittman who was fast and up to third at the break.
The teams had three minutes to change tires, adjust air pressure and make any necessary adjustments to their driver's speed chariots before they had to roll back on the track. Philip and the JJR #41 crew executed their tasks as Gravel took a drink of water before pulling his helmet back on to go back to battle. On the restart, the 27-year old star drove through the clean air as it made its way over his Axalta painted Vortex Racing Products wings. He was driving the car around the low line but really could maneuver through the middle or around the top when necessary. Pittman was certainly not surrendering without giving Gravel a fight. As the Connecticut-born native closed in on the rear of the field, Pittman drove his #83 within 8 car lengths at one point before Gravel checked out in the Axalta/Saich Family #41. When flagman Doug Clark showed the white flag indicating one lap to go, Gravel covered the historic half mile succinctly and drove under the double checkered flags for the win by 4.632 seconds over 22nd starting Logan Schuchart who came home in the runner-up position after a last lap pass of Pittman who finished third. The top three podium finishers were followed across the finish line by Tim Kaeding and Aaron Reutzel. Rounding out the top ten were Brad Sweet, Sheldon Haudenschild, James McFadden, Donny Schatz and Giovanni Scelzi.
The jubilant driver celebrated in Victory Lane with his team, sponsors, family and friends as he became the 26th driver to win the prestigious Knoxville Nationals. David Gravel's name will be forever etched in the record books as the winner of sprint car racing's biggest race – the Knoxville Nationals! After climbing from the car, he was greeted with hugs from his team and then reflected on the race, "I just let the race come to me." He continued, "Just, luckily, I was able to maintain third there early. I think that was huge and of see what lines worked where and what was the best place to be." As any good racer does, he remember the lessons from the past when he explained, "I've put myself in position a lot of times after prelim night and never had anything to show for it. You know my best finish was 10th before tonight. I feel like I've always been pretty good here, but no results on Saturday." He concluded, "Obviously, the JJR 41 gets around here god and it shows. It's just a dream week. I'm numb right now. I don't even know what's going on." As for Bobbi Johnson, the team owner of the JJR #41 team, she explained, "I am still trying to fathom it. You dream of this stuff. It's just phenomenal, unreal really." As she fought back tears, she summarized, "Words can't say what goes into all of the behind the scenes of something like this. I'm just thankful Jason (her late husband who won the race in 2016) was a great teacher and leader to me." The concluded by stating, "I have to thank everybody that's out there and all the fans." A great run for the forty-one!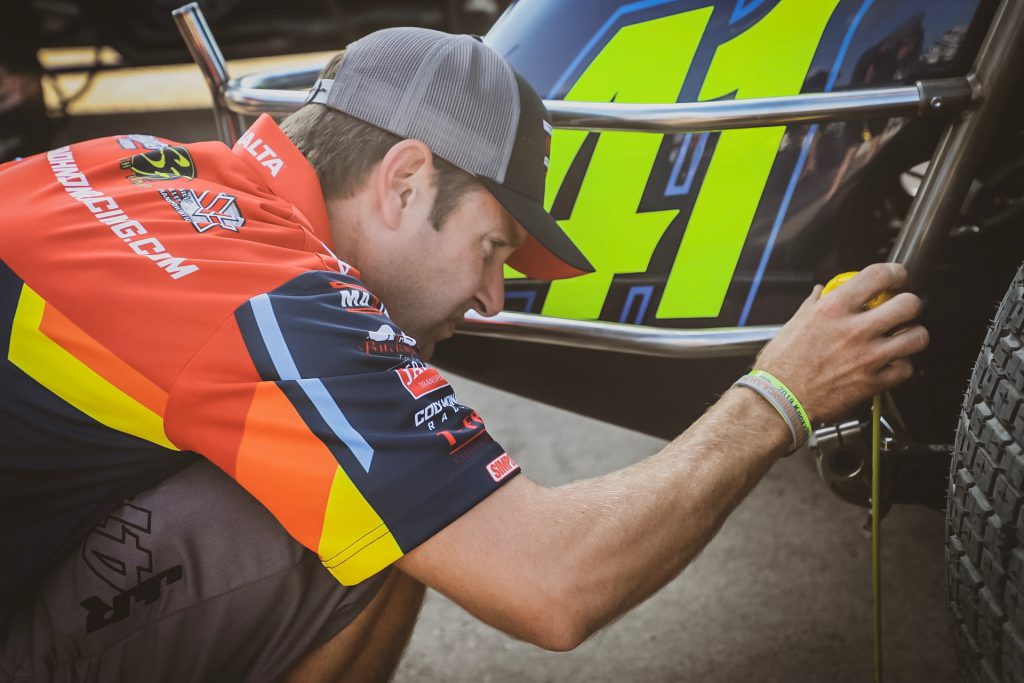 Be sure to follow Axalta on:
Twitter: @AxaltaRacing and include #WePaintWinners on all your tweets!
Website: www.axaltaracing.com
We are proud to represent all of our dedicated and loyal supporters:
Mesilla Valley Transportation (MVT); Saich Family; Jonestown KOA; Dissolvalloy Downhole Revolution; Weikert's Livestock; J.R.C. Transportation, Inc.; Durst Inc.; Maxim Racing; The Boyd Family; Pro Powder Coating (PPC); Waco Metal; High Performance Lubricants, LLC; Team Jack Foundation; Mark Burch Motorsports; Tiger Towing; All Pro Aluminum Cylinder Heads, Inc.; All Pro Auto Reconditioning; AutoMeter; Bell Racing USA; Blackbeard; Brown & Miller Racing Solutions (BMRS); Buckwalter Trucking, LLC; C&R Racing; Chalk Stix Torsion Bars; Cody Monoco Racing; Crow Enterprizes, Engler Machine & Tool, Inc.; Factory Kahne FK Shocks; Fibreworks Composites; FK Rod Ends; Fuel Safe Racing Cells; Greber Racing Components; Hoosier Racing Tire; ISC Racers Tape; Jansen Transportation; K&N Filters; Kaiden Kares; Kistler Racing Engines; KSE Racing Products; LogoDaddy Graphics; Max Papis Innovations (MPI); MSD Performance; RaceDiecast.com; Schoenfeld Headers; Shell Shock Paint; Simpson Race Products; T-FAB Custom Metal Fabrication; Vortex Racing Products; Weld Wheels; Wilwood Racing; and Winters Performance Products.
To stay connected with Jason Johnson Racing (JJR), go to www.jasonjohnsonracing.com.
To stay up-to-date with David Gravel and his success and journey on and off the track, as well as to purchase his gear and merchandise, go to www.DavidGravel89.com.