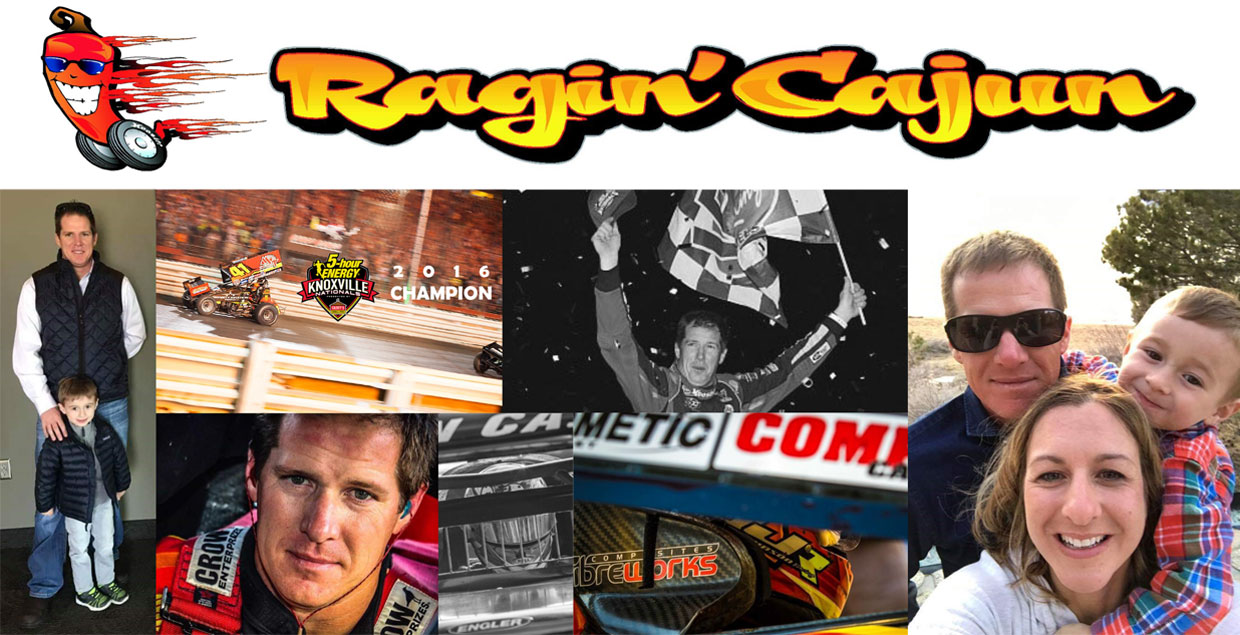 BIRTH DATE: July 7, 1976
BIRTHPLACE: Eunice, Louisiana
MARITAL STATUS: Married to Bobbi (wife)
CHILD: Jaxx (son)
CURRENT RESIDENCE: Rocky Mount, Missouri
2017 DUEL IN THE DAKOTAS
2017 SPEED SPORT WORLD CHALLENGE
2017 46TH ANNUAL DIRTCAR NATIONALS
2016 WORLD FINALS WINNER AT THE DIRT TRACK AT CHARLOTTE
2016 56TH ANNUAL 5-HOUR ENERGY KNOXVILLE NATIONALS CHAMPION
2016 BRAD SWEET'S SHORT TRACK OUTLAW SHOWDOWN
2015 WORLD OF OUTLAWS (WoO) KEVIN GOBRECHT ROOKIE OF THE YEAR
5 - DRIVER CHAMPIONSHIPS: 2008 (with The Shop Motorsports - Lanny Row and Alan Row), 2010, 2012, 2013 and 2014 (JJR/Stenhouse Jr. Racing)
5 - OWNER CHAMPIONSHIPS: 2008*, 2010, 2012, 2013 and 2014 (JJR/Stenhouse Jr. Racing)
*NOTE: Jason won the owner championship in 2008 for Mr. Lanny Row and Alan Row aboard The Shop Motorsports #41.
Jason Johnson was born and raised in Eunice, Louisiana, a city located in Acadia and St. Landry parishes in the heart of Cajun country. At an early age Jason had an interest in cars, especially race cars that went fast. Since then the full-time racer, who is also commonly referred to in the racing world as the Ragin' Cajun or the Cajun Sensation, has established himself as one of the most competitive and successful race car drivers in the world of sprint car racing.
Since he began racing he has recorded 254 career victories.  Jason has captured those victories in a variety of forms/types of race cars such as: stock cars; mini sprints; outlaw winged modifieds; 360 sprint cars; and, 410 sprint cars. This experience and success has positioned him as a leading contender when he arrives in the pit area of every track across the United States and when he travels to compete in Australia. In 1998, Jason began traveling and competing on the national scene while garnering victories and podium finishes along the way in a variety of series to include the World of Outlaws (WoO), All Star Circuit of Champions (ASCoC), American Sprint Car Series (ASCS), World Series of Sprintcars (WSS), Ultimate Sprintcar Championship (USC), Pennsylvania Posse (PA Posse), and the National Championship Racing Association (NCRA).
In addition to his success on the track as a driver, Jason and his wife Bobbi accomplished another career goal and milestone in 2010 when they became private team owners after establishing Jason Johnson Racing (JJR). In their inaugural season as owners, they enjoyed success quickly as they won both the driver's and owner's championship point titles in the competitive Lucas Oil ASCS National Tour Championship series with Jason behind the wheel. Not content, they followed that up with three consecutive owner's championship titles in 2012, 2013 and 2014 to bring their total to four as owners, but they have five overall. Jason's first driver's championship came in 2008 while driving for Mr. Lanny Row and Alan Row aboard The Shop Motorsports #41 entry. He then won his second championship in 2010 and then followed that up with his last three in 2012, 2013 and 2014 making him a 5-time ASCS National Tour champion.
Another highlight for Jason and Bobbi occurred off the track in 2013 with one of life's very special moments - the birth of their son. In May of 2013, they welcomed a new member to their family and team as Jaxx Hosea Johnson was born. Since then the bond between racing and their family has never been stronger as Jaxx is known to many around the track and in the pit area. The focus and value the driver and team put on family is very evident at home, around the track and in victory lane when celebrating their victories together.
2015 – A Year of Challenge and Perseverance: Jason and Bobbi, along with their long-time sponsorship partners, made the decision to challenge themselves and their team to enhance their racing exposure and branding opportunities as they elected to join the World of Outlaws Craftsman Sprint Car Series on a full-time basis. As they acclimated to this ultra-competitive racing series, a series comprised of the best full-time, sprint car racers that travel across the United States to compete against the best 410 sprint car racers week in and week out on their home turf, an unfortunate and untimely accident at Placerville Speedway in California sidetracked Jason's inaugural season with the World of Outlaws as he was seriously injured. While the driver was recuperating, Jason put on his owner's hat and fielded his JJR #41 entry with a formidable and capable group of replacement drivers that included: two-time World of Outlaws Champion Jason Meyers; Australian star Jamie Veal; and, three-time World of Outlaws Champion Sammy Swindell. Each of the drivers did a terrific job filling the JJR seat due that was open due to Jason's injury. Jason returned to the cockpit during the latter part of the season which ultimately culminated in a 12th place overall finish in the season long point standings. For his efforts he was recognized as the 2015 World of Outlaws Kevin Gobrecht Rookie of the Year.
2016 – A Year to Remember: During the off season, Jason and the JJR team worked extremely hard to improve themselves as a race team developing their mind, body, spirit, as well as, preparing all of the race equipment and strategy for the upcoming racing season traveling with the World of Outlaws. On March 23rd, Jason brought his story full-circle as he won at the very same track he was seriously injured at one year prior, Placerville Speedway, as he drove to the victory in Brad Sweet's Short Track Outlaw Showdown. It closed one chapter and made the driver and team eager to add more victories to their story. He continued to write that success story when he won the most prestigious sprint car race in the world on August 13th when he won the 56th Annual 5-Hour Energy Knoxville Nationals. The Ragin' Cajun crossed the finish line ahead of Donny Schatz, Shane Stewart and Daryn Pittman with Kyle Larson rounding out the top five. A result that is a true testament to his and the team's hard work, dedication, persistence and focus on being one of the best in the business. Jason wasn't done yet though as when the World of Outlaws (WoO) Craftsman Sprint Car Series headed back to El Paso County Raceway in Calhan, Colorado on September 14th, the Louisiana born native drove 40 great laps to record his third WoO victory of the season. And, as the season came to an end on October 28th at the Bad Boy Buggies World Finals at The Dirt Track at Charlotte, the hard charging driver from Louisiana wanted to make sure he went into the off-season on a positive note as he 'Parked It' on the first preliminary night to collect his fourth WoO victory of the year.
2017: A Year of Grit and Determination: The season kicked off with a bang as Jason got right to work winning the World of Outlaws Craftsman Sprint Car Series opening race at Volusia Speedway Park in the 46th Annual DIRTcar Nationals on February 17th. He continue his strong early season runs and captured his 250th career victory on the first night of the Texas Outlaw Nationals, at the famous Devil's Bowl Speedway in Mesquite, Texas, on April 14th. In August, when the World of Outlaws made their annual trip to Knoxville Raceway, known as the Sprint Car Capital of the World, Jason won the Hard Knox Preliminary Night feature, and then he went on to capture the SPEED SPORT World Challenge on the same night. It was the first time in his storied career he won two features on the same night. A week later, he followed those victories up by winning his third World of Outlaws Craftsman Sprint Car Series race of the year in the Duel in the Dakotas at Red River Valley Speedway leading wire-to-wire. The winning continued on the West Coast at Willamette Speedway when Jason railed the cushion at the Oregon 3/10-mile oval to collect his fourth World of Outlaws win on the season beating Daryn Pittman and Brad Sweet to the checkers.
2018 – Back to the Basics: As Jason and the JJR #41 team prepared for action in 2018 they did so with an acute focus on improvement on the track while driving meaningful value for their sponsorship partners and supporters. The action kicked off again under the sun-filled skies in Florida at Volusia Speedway Park as Jason and Bobbi Johnson took back the reigns of the racing operations as sole owners. The team is excited to return as sole owners of Jason Johnson Racing (JJR) while focusing on the basics that led to their success.
Everyone at Jason Johnson Racing (JJR) continues to stay focused on building their success on and off the track while driving value for their sponsorship partners. Jason, Bobbi and the entire JJR team, along with their valued sponsorship partners, are continually looking to improve on their winning ways. As Jason explains, "At JJR it is very important to us as team to always strive to represent each of our sponsorship partners and their respective brands with the utmost professionalism, while delivering successful results on and off the track that drive value to their businesses." The Louisiana native continued, "We realize the importance of being an aligned business partner so we can help them to grow their business and create brand awareness. We want to add value in everything we do for each of them and we take that responsibility seriously. For our team we recognize we have an opportunity to create meaningful exposure for their brands and products while delivering a return on their investment with our racing team as we travel and race across the country." He concluded by highlighting, "We also know the importance of driving results for our fans and sponsorship partners and work hard to deliver each and every day. We greatly appreciate all the support from all of our supporters across the country and the meaningful friendships and relationships we have built with them and our sponsorship partners in our successful and family-focused operation and business."
2017 Race Results
2016 Race Results
2015 Race Results
2014 Race Results
2013 Race Results
2012 Race Results
2011 Race Results
2010 Race Results
2009 Race Results
2008 Race Results
2007 Race Results
2006 Race Results
2005 Race Results
2004 Race Results